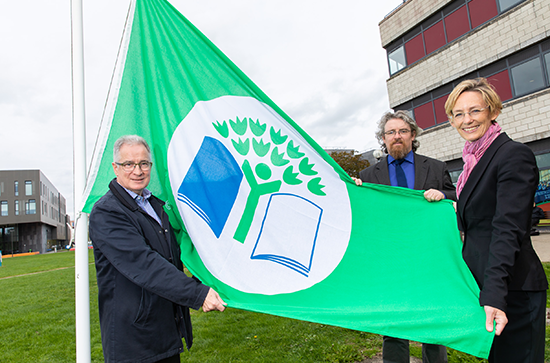 Thursday, May 3, 2018 - 12:00
Maynooth Green Campus, a committee which brings together Maynooth University, Saint Patrick's College Maynooth (SPCM) and Trócaire in an environmental partnership, has been awarded the prestigious Green Campus Flag by An Taisce and the International Foundation of Environmental Education.
The Green Flag Award is given for work undertaken to promote best practice in sustainability across five themes, including energy, water, waste, travel and transport, and biodiversity. Maynooth Green Campus added an innovative sixth theme, Climate Justice, in its bid to get the award.
Chairperson of the Green Campus Committee, and lecturer in Social Policy at Maynooth University, Dr Joe Larragy commented: "This award is a hugely important recognition of the depth and range of the hard work and innovative spirit of the several working groups that tackled each of the thematic areas – each of which posed its own unique challenges, but were essential in ensuring that our campus can meet critical environmental and sustainability needs for today and into the future."
President of Maynooth University, Professor Philip Nolan congratulated the Committee, saying: "I wish to extend my sincerest thanks to everyone involved in this important achievement. Maynooth University staff and students are deeply committed to sustainability and ecological justice, and doing everything we can to make our campus a model of sustainability and biodiversity is very important to us. The hard work of everyone involved in getting the Green Flag award is appreciated across the institution. I'm tremendously proud of the coming together of internationally recognised research on climate change, our commitment to climate justice, and our extensive efforts to deliver sustainability on campus."
Significant goals had to be reached in achieving a Green Flag across each of the themes. The award was approved by a unanimous decision of the board of assessors following a detailed application and day-long assessment on the campus.
In taking on the issue of energy usage, the University was awarded with an ISO 50001 certificate for energy in February 2018, following LED lighting upgrades across the campus, the installation of natural ventilation, brise soleil and sun shading fins, upgrades to the building management system, and the installation of solar panels. The popular Maynooth Unplugged campaign encouraged staff to switch off and unplug appliances over long weekends and seasonal holiday breaks.
The Committee also achieved significant water usage reductions per student through the repair and replacement of old pipes, the introduction rainwater harvesting to the campus, encouraging people to use less water, and the installation of water butts for use by ground staff.
To tackle the challenge of reducing waste, the Committee managed to achieve zero waste going to landfill by 2017, reduced from 67% in 2012.
Cardboard waste is now separated and baled on campus, while compostable cups have replaced disposable cups in the University's coffee shops. These cups are collected with brown waste on campus and composted by Thornton's in Co. Meath to make compost that is later shared with the campus. A new model of water fountains for filling bottles and free re-usable drink bottles also are available to help to reduce plastic waste on campus.
Reducing the impact of travel and transport to the Maynooth University campus was tricky due to the needs of students and staff commuting in from many regions. The University now has arrangements with many transport companies that provide shared travel services, while the campus also promotes cycling through self-service repair points, weekly bike-repair clinics and second-hand bike sales, as well as the popular cycle-to-work scheme.
Cycling is still a challenge for a number of reasons, including issues of safety, weather and distance to the campus. Car-sharing is incentivised through various means, and electrical charge points are provided. On-campus, a fleet of road-licensed narrow-gauge electrical vehicles are used for catering and courier services and grounds staff.
On the issue of biodiversity, Maynooth University has become an active partner in the All-Ireland Pollinator Plan, providing bee nesting sites and year-round forage for pollinators. It also undertakes habitat mapping to provide important data on plant life across the campus.
Work is ongoing to reduce agrochemical use on campus too, while a number of sites have been earmarked for monitoring and identification of species on campus. Bird boxes, bat boxes, butterfly conservation work and wildflower meadows have been installed to contribute to biodiversity, with the bonus of making for interesting wild walks, and being fruitful sources for learning.
Together with Trócaire and SPCM, the University sponsored a major conference in June 2015 on climate justice, opened by former President Mary Robinson and attended by over 400 people, with a panel of key international climate advocates and experts. Other events included expert-led workshops on divestment and a host of student events and lectures on the implications of climate change for policy.
One of the outstanding decisions taken by Maynooth University when the conference took place was to become the first university on the island of Ireland to declare its investments fossil-free and to commit to a policy of ethical and fossil-free investment in the future.
The Committee collaborates regularly on projects with Maynooth Tidy Town and also with Kildare County Council on environmental work, with businesses such as Intel, to promote pollination corridors in North Kildare.
Chairperson Larragy added that the work of Maynooth Green Campus is attributable to the great conviction and hard work of a number of volunteers across all subject areas and in a wide range of departments on campus. He says: "The grounds staff, the energy management staff, campus development people as well as the dozens of volunteer academics, administrators, and students across the campus have been invaluable, and without them there would be no Green Flag."
He also singled out Trócaire for its commitment to exposing and addressing the links between climate change and the challenges for least developed countries. The work on climate justice, he said, is at the very centre of all the other work we do on campus.

Gradam an Bhrait Ghlais, gradam a bhfuil ardmheas air, bronnta ar Ollscoil Mhá Nuad
Bhronn An Taisce agus an Fhondúireacht Idirnáisiúnta um Oideachas Comhshaoil Gradam na gCampas Glas, gradam a bhfuil ardmheas air, ar Champas Glas Mhá Nuad, coiste a thugann Ollscoil Mhá Nuad, Coláiste Phádraig Maigh Nuad (SPCM) agus Trócaire le chéile i bpáirtíocht comhshaoil.
Bronntar Gradam an Bhrait Ghlais ar son oibre chun deachleachtas san inbhuanaitheacht a chur chun cinn i gcúig théama lena n-áirítear fuinneamh, uisce, dramhaíl, taisteal agus iompair, agus bithéagsúlacht. Chuir Campas Glas Mhá Nuad an séú téama nuálach leis na téamaí sin - Ceartas Aeráide - sna hiarrachtaí a rinneadh chun an gradam a bhaint amach.
Dúirt an Dr Joe Larragy, Cathaoirleach Choiste an Champais Ghlais, agus léachtóir le Beartas Sóisialta in Ollscoil Mhá Nuad: "Is aitheantas fíorthábhachtach é seo ar an réimse leathan oibre agus ar spiorad nuálaíoch na ngrúpaí oibre éagsúla a thug aghaidh ar na réimsí téamacha – bhí dúshlán ar leith ag baint le gach uile réimse a bhí riachtanach lena cinntiú gur féidir lenár gcampas freastal ar na riachtanais chomhshaoil agus inbhuanaitheachta atá ann inniu agus a bheidh ann sa todhchaí."
Rinne an tOllamh Pilib Ó Nualláin, Uachtarán Ollscoil Mhá Nuad, comhghairdeas leis an gCoiste. Dúirt sé: "Ba mhaith liom buíochas ó chroí a ghabháil le gach duine a bhí páirteach san éacht tábhachtach seo. Tá foireann agus mic léinn na hOllscoile thar a bheith tiomanta d'inbhuanaitheacht agus do cheartas éiceolaíoch, agus tá sé fíorthábhachtach dúinn ár ndícheall a dhéanamh lena cinntiú gur eiseamláir den inbhuanaitheacht agus den bhithéagsúlacht an campas seo againne. Is mór againn an obair go léir a rinne gach duine chun Gradam an Bhrait Ghlais a bhaint amach. Tá bród an domhain orm gur léir an nasc idir an taighde ar an athrú aeráide, taighde atá aitheanta go hidirnáisiúnta, ár dtiomantas do cheartas aeráide, agus na hiarrachtaí cuimsitheacha atá déanta againn ar mhaithe le hinbhuanaitheacht ar an gcampas."
Bhí spriocanna suntasacha le baint amach chun Brat Glas a ghnóthú sna téamaí éagsúla. Rinne bord na measúnóirí cinneadh d'aon ghuth an gradam a bhronnadh tar éis iarratas sonrach a fháil agus measúnú lae a dhéanamh ar an gcampas féin.
Bronnadh teastas ISO 50001 d'fhuinneamh ar an Ollscoil i mí Feabhra 2018 mar thoradh ar an obair a rinneadh le dul i ngleic leis an úsáid fuinnimh. Cuireadh soilsiú LED isteach ar fud an champais chomh maith le haerú nádúrtha, brise soleil agus sceigeanna le scáthú a dhéanamh ar an ngrian, rinneadh uasghrádú ar an gcóras bainistíochta foirgneamh, agus cuireadh painéil ghréine isteach. Bhí rath ar an bhfeachtas Maynooth Unplugged, feachtas a thug spreagadh do bhaill foirne fearais a chasadh as agus a dhíphlugáil ag deireadh seachtaine fada agus le linn laethanta saoire séasúracha.
D'éirigh leis an gCoiste úsáid uisce na mac léinn a laghdú go mór trí sheanphíopaí a dheisiú agus píopaí nua a chur isteach, trí bhailiú báistí ar an gcampas, spreagadh a thabhairt do dhaoine níos lú uisce a úsáid, agus butaí uisce a chur isteach don fhoireann talún.
Le haghaidh a thabhairt ar an dúshlán a bhaineann le dramhaíl a laghdú, d'éirigh leis an gCoiste a chinntiú nach raibh aon dramhaíl á cur chuig láithreán líonadh talún faoin mbliain 2017, laghdaithe ó 67 faoin gcéad sa bhliain 2012.
Scartar dramhaíl cairtchláir anois agus burláiltear í ar an gcampas, agus sna siopaí caife úsáidtear cupáin ar féidir múirín a dhéanamh astu in áit cupáin aonúsáide. Bailítear na cupáin sin leis an dramhaíl dhonn ar an gcampas agus cruthaíonn Thorntons múirín as i gCo na Mí. Roinntear an múirín ar an gcampas ina dhiaidh sin. Tá cineál nua scairdeán uisce ann ónar féidir buidéil a líonadh agus tá buidéil dí ath-inúsáidte ar fáil le cabhrú le dramhaíl phlaisteach ar an gcampas a laghdú.
Bhí dúshlán ar leith ag baint le tionchar taistil agus iompair chuig campas Ollscoil Mhá Nuad a laghdú toisc go bhfuil riachtanais éagsúla ag na mic léinn agus ag na baill foirne a thaistilíonn ó réigiúin éagsúla. Tá socruithe déanta ag an Ollscoil anois lena lán comhlachtaí iompair a chuireann seirbhísí taistil comhroinnte ar fáil. Cuireann an campas rothaíocht chun cinn trí phointí deisithe féinseirbhíse a sholáthar, cuirtear clinicí deisiúcháin rothar ar fáil go seachtainiúil, tugtar deis do dhaoine rothair athláimhe a cheannach agus cuirtear an scéim um rothaíocht chun na hoibre ar fáil, scéim a bhfuil éileamh uirthi.
Tá dúshlán ar leith ag baint leis an rothaíocht fós ar chúiseanna éagsúla - ceisteanna sábháilteachta, staid aimsire agus fad ón gcampas. Spreagtar tionscadail roinnte carranna ar bhealaí éagsúla agus tá pointí luchtaithe leictrigh curtha ar fáil. Baineann an fhoireann lónadóireachta, na seirbhísí cúiréireachta agus an fhoireann talún ar an gcampas úsáid as flít d'fheithiclí caola leictreacha a bhfuil cead acu tiomáint ar na bóithre.
Maidir le ceist na bithéagsúlachta, is páirtí gníomhach í Ollscoil Mhá Nuad i bPlean Uile-Éireann um Pailneoirí. Cuirtear láithreacha neadaireachta ar fáil do bheacha chomh maith le foráiste do phailneoirí ó cheann ceann na bliana. Tá mapáil gnáthóg ar bun ag an Ollscoil freisin le sonraí tábhachtacha a bhailiú faoi bheatha phlandúil ar fud an champais.
Tá obair leanúnach ar bun chun an úsáid a bhaintear as agraiceimiceáin ar an gcampas a laghdú, tá cúpla láthair curtha ar leataobh le monatóireacht agus sainaithint a dhéanamh ar speicis. Cuireadh isteach boscaí éan, agus boscaí ialtóg, agus tá obair chaomhnaithe féileacán ar bun, agus cruthaíodh móinéir de bhláthanna fiáine le cur leis an mbithéagsúlacht. Cruthaíodh siúlóidí fiáine thar a bheith spéisiúil mar thoradh ar an obair seo agus is foinsí foghlama tairbheacha iad.
Rinne Ollscoil Mhá Nuad, i gcomhpháirtíocht le Trócaire agus SPCM, urraíocht ar chomhdháil shuntasach ar cheartas aeráide i mí an Mheithimh 2015. D'oscail an tIar-Uachtarán Mary Robinson an chomhdháil agus bhí breis agus 400 duine i láthair chomh maith le painéal de thacadóirí agus de shaineolaithe aeráide idirnáisiúnta. Bhí ceardlanna ar dhífheistiú á stiúradh ag saineolaithe, agus eagraíodh réimse imeachtaí do mhic léinn chomh maith le léachtaí ar an tionchar a bhíonn ag athrú aeráide ar bheartas.
Le linn na comhdhála, rinne Ollscoil Mhá Nuad cinntí sármhaithe. Ceann de na cinntí sin ná a bheith ar an gcéad ollscoil ar oileán na hÉireann le fógairt nach bhfuil baint ag a cuid infheistíochtaí le breoslaí iontaise agus go bhfuil sí tiomanta do pholasaí infheistíochta atá eiticiúil agus nach mbainfidh le breoslaí iontaise sa todhchaí.
Comhoibríonn an Coiste le Baile Slachtmhar Mhá Nuad ar thionscadail go rialta agus le Comhairle Contae Chill Dara ar obair comhshaoil agus le gnólachtaí ar nós Intel le conairí um pailniú a chun cinn i dTuaisceart Chill Dara.
Chuir an Cathaoirleach Larragy leis an méid sin. Dar leis, cuirtear obair Champas Ghlas Mhá Nuad i gcrích mar thoradh ar mar thoradh ar phrionsabail láidre agus dhianobair na n-oibrithe deonacha sna hábhair uile agus thar réimse leathan ranna ar an gcampas. Deir sé: "Is mór againn an fhoireann talún, an fhoireann bainistíochta fuinnimh, lucht forbartha an champais chomh maith leis na scórtha acadóir, riarthóir agus mac léinn a oibríonn go deonach ar fud an champais. Murach iad, ní bheadh an Brat Glas againn."
Dhírigh sé ar Thrócaire chomh maith as an tiomantas a léirigh an eagraíocht na naisc idir an t-athrú aeráide agus na dúshláin a sheasann roimh na tíortha is lú forbairt. Dúirt sé go bhfuil an obair ar cheartas aeráide ag croílár na hoibre eile a dhéantar ar an gcampas.