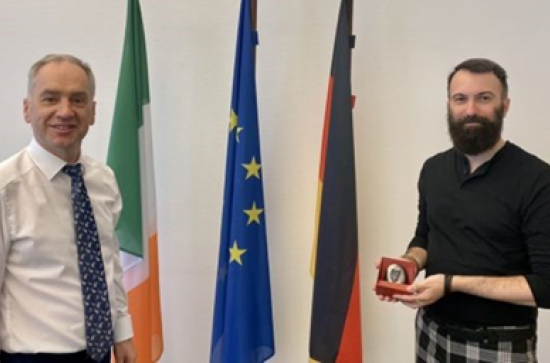 Thursday, September 9, 2021 - 16:30
Bronnadh Bonn Néill Uí Dhónaill ar Thadhg Mac Eoghain, mac léinn MA de chuid Lárionad na Gaeilge, le déanaí. Ghnóthaigh Tadhg an phríomhdhuais agus an duais idirnáisiúnta i gcomórtas aistí foclóireachta – a bhí á reáchtáil ag Foras na Gaeilge den chéad uair i mbliana – as aiste dar teideal "Foclóireacht, Aiteacht, Coimíneacht" a scríobh.
Bhain Tadhg an Dioplóma Iarchéime san Aistriúchán agus san Eagarthóireacht amach i Lárionad na Gaeilge sa bhliain 2020 agus bheartaigh sé tabhairt faoi MA ina dhiaidh sin. D'fhás Tadhg aníos i Massachusetts, agus tá sé ag tabhairt faoin MA faoi láthair agus é ina chónaí i mBeirlín. Bhí suim aige an Dioplóma a dhéanamh mar thug an clár deis dó 'céim a bhaint amach trí chianoideachas' agus é sa Ghearmáin. Is cúrsa ar líne é an Dioplóma Iarchéime, rud a fhágann gur féidir le mic léinn tabhairt faoi, beag beann ar an áit a bhfuil siad lonnaithe.
Tá an aiste a scríobh Tadhg don chomórtas bunaithe ar an ábhar taighde atá idir lámha aige dá thráchtas MA san Aistriúchán agus san Eagarthóireacht, ina ndíríonn sé ar fhriotal ionchuimsitheach – idir théarmaíocht agus fhorainmneacha – don phobal Leispiach, Aerach, Déghnéasach, Trasinscneach agus Aiteach.
Mar chuid den taighde, pléann Tadhg na téarmaí a mholtar in An Foclóir Aiteach, molann sé leasuithe agus téarmaí breise agus déanann sé plé ar cheist na bhforainmneacha neodracha. Tá Tadhg i dteagmháil le AMLÉ faoi láthair maidir le hathleagan de An Foclóir Aiteach a fhoilsiú. Agus Tadhg ag trácht ar a ábhar taighde, dúirt sé an méid seo: 'de réir mar a leathnaíonn nó a athraíonn an pobal, ceapaim go bhfuil sé de dhualgas againn leanúint ar aghaidh ár dteanga a mhúnlú chun freastal ar riachtanais an phobail go léir. Feicim go bhfuil sé sin ag tarlú sa Ghaeilge i measc Gaeilgeoirí aiteacha le blianta beaga anuas, agus is iontach an rud é. Sin go díreach an rud atá mé ag iarraidh a thabhairt chun solais le mo chuid taighde.'
Is taighde fiúntach agus tábhachtach é seo a rachaidh chun tairbhe don phobal LADTA+ agus don phobal Gaelach i gcoitinne. Tréaslaímid an gradam agus an saothar iontach seo leis féin agus lena stiúrthóir MA, Helen Hegarty.
A Lárionad na Gaeilge MA student, Tadhg Mac Eoghain, has been awarded the inaugaral Foras na Gaeilge Niall Ó Dónaill medal (both the international and the overall prize) for an essay entitled "Foclóireacht, Aiteacht. Coimíneacht", based on his MA research on inclusive terminology and pronouns in Irish for the LGBTQ community.
Tadhg completed the Postgraduate Diploma in Translation and Editing in Lárionad na Gaeilge in 2020 and progressed to the MA programme. Originally from Massachusetts, Tadhg is completing the MA from his current home in Berlin. The Postgraduate Diploma and MA in Translation and Editing are online courses, catering for both Irish and international students. Tadhg chose these programmes as it gave him an opportunity to study Irish remotely, while living in Germany.
Tadhg's MA research examines terms suggested in An Foclóir Aiteach (The Queer Dictionary), and suggests possible revisions and additions, as well as gender-neutral pronouns. Tadhg is currently in discussion with the USI about publishing an updated version of An Foclóir Aiteach. "As the community broadens and changes," Tadhg said when discussing his research, "I think that we must continue shaping our language to tend to the needs of the whole community. I can see that this has been happening in recent years in the Irish language within the LGBTQ community, and that is great. And that is exactly what I want to bring to light in my research."
This research respresents an important scholarly contribution and will be of great benefit to both LGBTQ+ and Irish speaking communities in general. Our warm congratulations to both Tadhg and his MA supervisor, Helen Hegarty, on this great achievement.
​