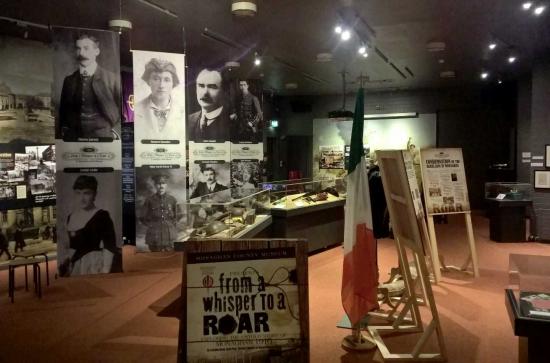 Monday, December 5, 2016 - 10:15
The 1916 Exhibition, 'From a whisper to a roar', which Prof Terence Dooley, Dept of History, collaborated on with Monaghan County Museum, has been awarded the 2016 Public Sector Magazine Award for Best Exhibition; and the Special Award for National Commemorative Events at the recent Chambers Ireland Excellence in Local Government Awards.
The Northern Standard of 1 December 2016 reported that 'the museum won its most recent award in a category that included some of the largest commemorative events from around the country.... Monaghan County Museum collaborated [on the exhibition] with Professor Terence Dooley of Maynooth University, himself a Monaghan native.'
The exhibition has also broken the Museum's record for visitors, becoming officially the most successful exhibition ever staged in the service's 42 year history. Such has been the demand, the exhibition, originally scheduled to close at the end of the year, has been extended for another two months until the end of February.