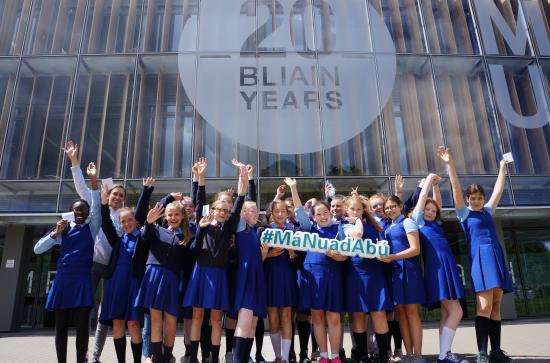 Thursday, June 21, 2018 - 14:45
5th and 6th class students from Presentation Girls' School Maynooth were the first students to take part in the Timeline Quiz based on the Decade of Commemorations Timeline.
The Timeline, on the front façade of the Library, marks some significant local, national and international events of the Decade 1912-1922. Produced by the University's Commemorations Committee, the timeline is bilingual, https://www.maynoothuniversity.ie/commemorations.
The girls worked in pairs to find the answers on the Timeline. Some of the questions were challenging, but with '1916 and the foundation of the state' and 'Northern Ireland' on the 5th and 6th class curriculum the students answered the questions relating to Irish politics and the Rising quite quickly. Section B had more general topics and the students got to work, eagerly finding the answers on the Timeline. Prizes of book vouchers, and snacks were sponsored by the Decade of Commemorations Committee at Maynooth University.

Special thanks to the events team at the Library; Jonathan Carroll, Alumni Office; and Brendan Ashe, Health & Safety Officer.
​