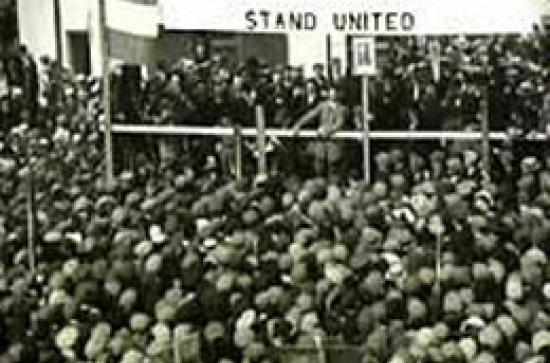 Thursday, April 12, 2018 - 16:15
On Thursday 12 April Dr Emmet O'Connor (Ulster University) presented an excellent paper 'Labour and the conscription crisis' to a large audience comprising academic staff, students, members of local history groups and others. Dr O'Connor took as his starting point the 23 April 1918, when the Irish Trades Union Congress and Labour Party staged a general strike against conscription. That strike contributed to a big increase in trade union membership and gave Labour a leading role in the national movement over the coming months. Dr O'Connor explored whether the strike lead to the subordination of class to nation. More generally, he traced Labour's response to the conscription question from the outbreak of World War I to its decision in the final days of the war to withdraw from the 1918 general election.
Dr Emmet O'Connor, senior lecturer, School of English and History, Ulster University, is one of Ireland's most eminent historians of labour, and author of Big Jim Larkin: Hero or Wrecker? (Dublin, 2015). His previous works include A Labour History of Ireland 1824-2000 (1992, revised edn., 2011).