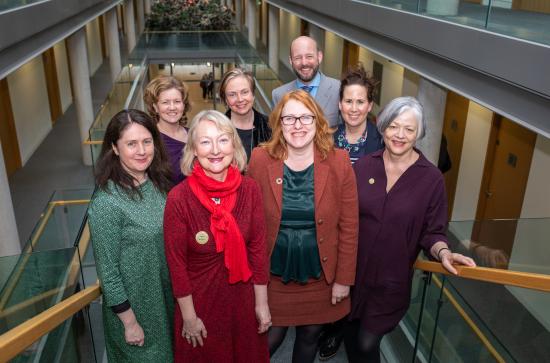 Tuesday, May 8, 2018 - 13:45
Maynooth University is marking the key events in the revolutionary period that helped to shape the course of history and the development of an independent Ireland. This commemoration will take the form of exhibitions, readings, conferences, seminars, performances and gatherings that reflect on key moments, figures and themes from one hundred years ago. Maynooth University has adopted the theme of 'Women and the Decade of Commemorations' as a key focus and a number of events have been organised reflecting not only on the contribution of women to the revolutionary period in Ireland's history, but also on the issues that women in an Irish context continue to face.
The events have been organised through the Decade of Commemorations Committee and supported by generous funding from Maynooth University.
On thursday the 3rd of May together with MU Social Sciences Institute the Decade of Commemorations committee organised a panel discussion entitled "Commemorating the 100th Anniversary of Votes for Women".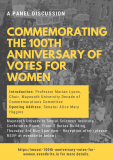 President, Prof Philip Nolan opened the event and spoke about the significant gender imbalances in political life, and also in academic life, and that there still is a long road to gender equality within the university sector in Ireland more widely, he acknowledged the hard work done by the Athena Swan self assessment team. He also mentioned the fact that there were more female politicians in 1923 (5) than there were in 1973 (4)!
We were delighted to have Senator Alice Mary Higgins (Votáil 100 Committee) who followed with an energising introductory presentation The senator noted that she is first woman in 35 years to be elected to the NUI panel in the Seanad. She also welcomed the positive work of Athena Swan for improving gender equality in universities.
The panel began with 'Why militancy? Pressures and outcomes for Irish militants in the suffrage movement.' with Dr. Margaret Ward, QUB. Next was "interrogating the feminist/ nationalist nexus: the complex and dynamic relationships between suffragist and independence movements in early twentieth century Ireland" Prof Louise Ryan, University of Sheffield. Finally "The Aftermath of Suffrage: Female Networks, Activism and Women's Rights in the Irish Free State, 1918 to 1937" Dr Caitríona Beaumont, London South Bank University.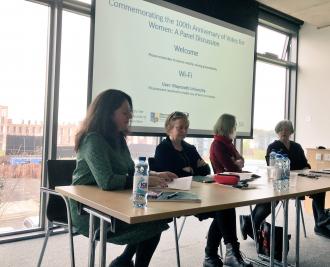 The event was live streamed on twitter but a copy of this stream can be viewed here