Monday, July 10, 2017 - 12:30
The Sixth Biology Research Day was held on the 6th of June 2017 and provided an opportunity for PhD and MSc students, postdocs and academic staff to present and discuss their research, and to get an overview of the current research activities in the department.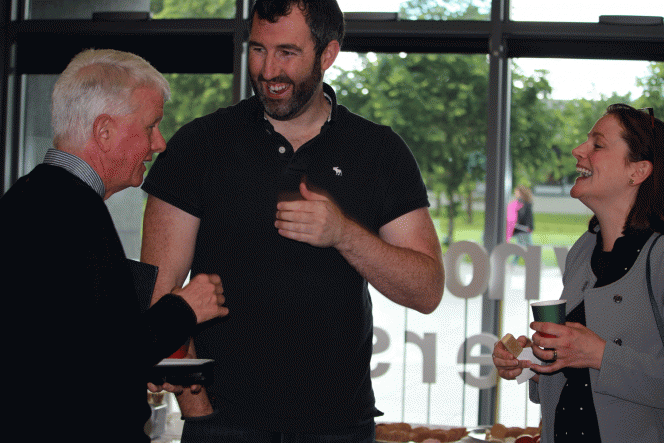 Prof Kevin Kavanagh, Dr. Andy Hogan, Dr. Karen English
This year, we had 19 oral presentations and 19 posters, across a wide range of Biological disciplines.
Prizes were generously sponsored by Roche Diagnostics and the following PhD students and postdocs were selected for awards:
BEST TALK:
Ronan Maguire, (3rd year PhD student, Medical Mycology Lab, KK)
'Analysis of the acute response of Galleria mellonella larvae to caffeine'

Two Runner-ups:

Eoin O'Connor (2nd year PhD student, Genome Evolution Lab, DF)
'Genomics directed approach to understanding the response of Agaricus bisporus to Mushroom Virus X infection'

Jyotsna Pardeshi (2nd year PhD student, Host-Pathogen Interaction Lab, MS)
'Understanding the role of human DEAD-box helicase 3 in Breast cancer-relevant gene expression'

BEST POSTER:

Dean Frawley (1st year PhD student, Fungal Genetics and Secondary Metabolism Lab, OB)
'The potential scaffolding role of HamE in the Aspergillus nidulans AnFus3 module'
Dean Frawley receiving the prize for Best Poster from Dr Martina Schroeder, Postgraduate Coordinator, Department of Biology.
Two Runner-ups:

Betim Karahoda (3rd year PhD student, Fungal Genetics and Secondary Metabolism Lab, OB)
'H3K4 Demethylase KdmB Bridges Cohesin Acetylation to Histone Deacetylase-ring finger Complex for the Fungal Light Responses and Secondary Metabolism'
Sarah Delaney (Antimicrobial Resistance and Microbiome Research Group, FW)
'Characterisation of a multi-drug resistant plasmid isolated from the gastrointestinal tract of broiler chickens'

Congratulations and well done to all award winners, and to everybody else who made the judges work very hard to select the winners!

​