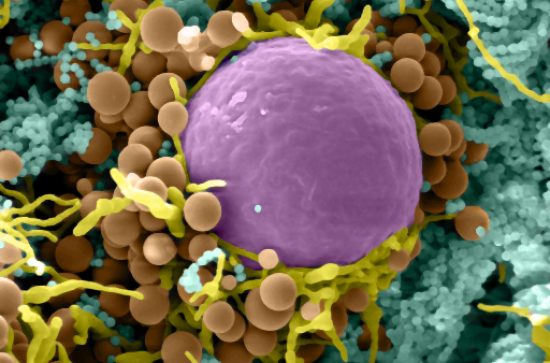 Wednesday, January 12, 2022 - 14:00
Researchers at the Department of Biology in Maynooth University have successfully produced a novel antibody in the laboratory and licensed it to an Irish company for commercialisation. The antibody can be used in a lateral flow test (LFT) to help diagnose a serious fungal infection of the lung caused by the airborne pathogen, Aspergillus fumigatus. The often-fatal disease is called Invasive Pulmonary Aspergillosis (IPA) and occurs in some COVID-19 patients who end up in ICU, immunocompromised individuals and those with pre-existing lung disorders. Worldwide, upwards of 400,000 people contract IPA annually.
The team produced the unique monoclonal antibody which can specifically detect a secreted fungal peptide, called a siderophore, the presence of which has been shown to be a biomarker of IPA disease. They have also undertaken a major effort to identify the antibody 'sequence' and then produce it as a recombinant monoclonal antibody which can be generated continuously in large amounts - an essential requirement for commercialisation.
Lead Investigators Professor Sean Doyle and Associate Professor David Fitzpatrick at Maynooth University, spear-headed the work, which was funded in the initial stages by Science Foundation Ireland. Along with former PhD student and now Research Fellow at Cambridge University, Dr Nicola Moloney, in collaboration with Dr Annemarie Larkin, IT Sligo and Austrian researchers, they worked over the past 4 years to bring the concept to reality and it has now been published as open access in the international journal, Analytical Biochemistry and can be accessed here.
Commenting, Professor Doyle said that "This is a first-in-class recombinant monoclonal antibody, which we have called Tafcimab, with significant potential for diagnosing IPA, a significant COVID-19 associated lung infection. We have now licensed the technology to an Irish company, Accuplex Diagnostics Limited, who will commercialise the technology for research and diagnostic purposes. We also intend to continue the work to validate and demonstrate additional biomedical uses of Tafcimab, and the innovative strategy used to produce it, at Maynooth University.". Fitzpatrick added "Our efforts show that integration of expertise ranging from bioinformatics, chemical biology, proteomics, molecular biology and immunology can produce tangible biological deliverables with both biotechnological and commercial potential. Tafcimab may also have applications for diagnosing some infectious veterinary diseases too. "
This is just one example of the leading-edge and real-world, innovative, work being undertaken by all Life Science Researchers at Maynooth University. Their research outputs are gaining significant international recognition as measured by the increased number, and impact, of their peer-reviewed publications. This in turn is leading to an expansion in Life Science research activity at Maynooth University.