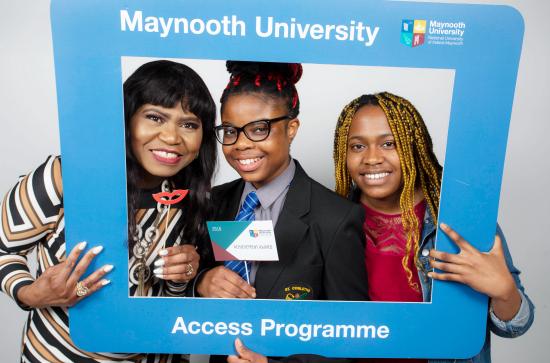 Monday, April 16, 2018 - 13:45
Maynooth University has recognised the outstanding contributions its staff, students and alumni have made to the field of education and educational inclusivity through its Access Programme Achievement Awards 2018.
Among the winners of this year's awards are alumnus Claire Shorten (BA, 2017), the first- ever fully blind student to study for her Professional Master of Education (PME), receiving the 2018 Alumni Award; and Krista Dooley, a third-year undergraduate in Law who is a Maynooth Access Programme (MAP) School Outreach Ambassador, receiving the 2018 Student Achievement Awards.
Claire and Krista have been selected based on their personal and academic achievements, their civic engagement with the University and their local community, and their potential to act as role models to other students.
Claire Shorten lost her sight in her first year in Maynooth University as the result of a brain tumour. Determined to complete her education, she returned to Maynooth some years later and embarked on a degree in history and geography. In coming back to university, she had to learn to use assistive technology to ensure she could access the curriculum properly and at times this was a challenge.
The Assistive Technology Officer based at the Maynooth Access Programme was a critical support for her during this time. Claire has recently started the Professional Master of Education programme and, upon graduation, will become Ireland's first ever fully blind secondary school teacher.
Krista Dooley was one of only nine students to progress to university from her leaving certificate class at Mercy Secondary School, Goldenbridge, in 2015. Through the Higher Education Access Route – an admission programme that Maynooth University helped develop to assist school leavers from disadvantaged backgrounds in accessing higher education – Krista embarked on a law degree at Maynooth University and is on track to graduate this September with a First Class Honours Degree.
Since starting at Maynooth University, Krista has embraced every aspect of college life and has continued to remain active in her community by mentoring young people from Ballyfermot and Inchicore on their journeys to higher education.
She plans to undertake a Master's Degree in Mediation and Conflict Resolution after graduation. Due to Krista's commitment and others like her, progression rates to higher education from DEIS schools are continuing to improve.
In addition to those awards, Maynooth University also will honour 150 inspirational 3rd and 6th year students from a number of secondary schools throughout Kildare, Dublin, Offaly and Kilkenny that participate in various Access Programme schemes.
The schools have carefully chosen the young people because of the commitment, dedication and perseverance these students have shown to their coursework, their schools and their communities. The 6th year award winners then nominated 32 school staff members as being an inspiration to them.
Commenting on the awards Maynooth University President, Professor Philip Nolan, said: "At Maynooth University we believe that diversity drives excellence – it is for this reason we lead the way in access and inclusion in higher education."
"The Access Programme Achievement Awards have a powerful impact at a crucial point in the lives of the students, celebrating their academic achievements, highlighting that university is for them, and recognising the important role of teachers and families in supporting them on that learning journey."
"Maynooth University is proud to be the national leader in access and widening participation in the university sector and we are committed to ensuring that our doors are open to everyone. We recognise the power of higher education and how it can transform the lives of individuals, families, and entire communities. We also know that education is key to reducing the structural inequalities that exist in our society. Since our establishment as an autonomous institution in 1997, the University has been built on the core principles of equality, inclusiveness and social justice. These awards, and their inspiring recipients, continue to reflect those values."
The Maynooth University Access Programme Achievement Awards take place at the beginning of Maynooth Week 2018. In June 2017 Maynooth University celebrated the 20th anniversary of its founding as an independent university. Maynooth Week 2018 is part of a year-long series of programmes and activities marking this milestone.
Past Maynooth University Inspirational Student and Alumni Award Winners