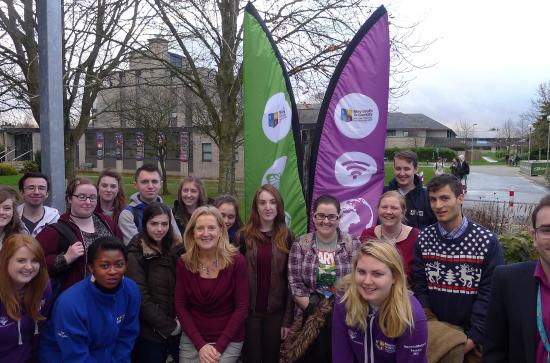 Thursday, December 10, 2015 - 11:15
The Maynooth University Access Programme (MAP) unveiled two new flags outside MAP Lodge on Tuesday, 8 December. A new flag is hung each year as a symbol to students supported by MAP of the connections they make to the University and each other during the Launchpad Orientation Programme held in August for incoming students who enter through the Higher Education Access Route (HEAR) and Disability Access Route to Education (DARE).

As the numbers entering through the HEAR/DARE entry routes at Maynooth University have increased significantly. 2015 was the first year that Launchpad was held twice and that there are 2 flags hanging outside MAP Lodge.

The Flag Launch was attended by MAP students, Maynooth University Kilkenny Campus students, MAP Ambassadors and university staff. At the Launch, Director of Access Rose Ryan and President of the Maynooth Access Society Rebecca Malone awarded a special prize to two Design Innovation Students, Paul Brennan and Tomás McGee. These students won competition to create a durable flag marker to be placed close to the Launchpad flags which indicates to passersby the meaning behind the flags.

MAP has wide range of supports that put students at the centre of their academic journey and help mitigate against the impact of socio-economic disadvantage and disability on progression and retention at 3rd level.