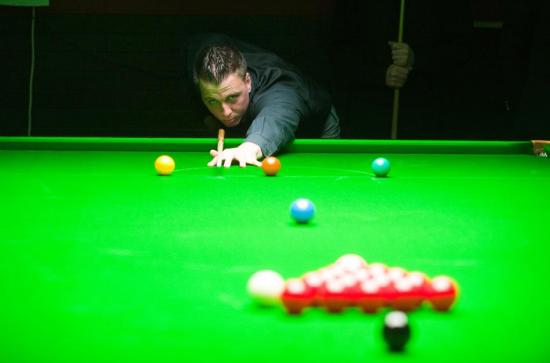 Monday, January 16, 2017 - 14:45
In December 2016, Maynooth University Snooker Club won both the team and individual All Ireland Snooker Intervarsities.
Maynooth sent two teams. A team: Diarmuid O' Connor (C), Keith Fox, Niall Brady, Sean King, and Liam Twaddle. B team: Jack Arnold (C), Tom Duignan, Shaun McDonnell, Barry Sheehan, Gareth Walsh, and reserve Ben McCabe.
Both teams played well in the group stages and qualified for the semi-finals, where they ended up playing each other. It was a tough match with Maynooth B putting it up to Maynooth A, but the A team eventually won 6-2 (best of 10 frames).
Maynooth A then played NUIG in the team final (best of 5 matches), and some excellent snooker helped them win by three matches to one. This was Maynooth's first team title in five years.
There were some super performances from Maynooth players throughout the weekend including Keith Fox and Diarmuid O'Connor losing no frames in team competition and B team players Jack Arnold (QF) and Tom Duignan (SF) doing very well in the individual championship. Maynooth students accounted for 5 of the 8 quarter finalists and 3 of the four semi-finalists, capping a dominant display by the Maynooth club.
Diarmuid O'Connor also won the singles championship beating teammate Sean King 3-0 in the final, and Diarmuid also took the highest break title with a 67 in his individual semi-final.
The Club added to their impressive achievements with success in February 2017 at the Irish Pool Intervarsities.

A slow start to the group stages resulted in a third place finish for the Maynooth University team and, as a consequence, they qualified for the shield competition. Though they started the weekend with higher expectations of qualifying for the cup, they were not deterred and managed to win the shield competition losing just four frames over the course of the three knockout matches. They won the final against ?? 6-1 with team captain Niall Brady potting the winning black ball. Both Niall and Diarmuid O'Connor were also on the winning Snooker Intervarsity team.

In the individual competition, 4 of the team progressed to the last 32, two to the last 16, and Shaun McDonnell reached the quarter finals where he narrowly lost to the eventual beaten finalist.

The club has recently invested in new Supreme pool tables, and hopes to build on this success in pool and cement our reputation as the best cue-sports institution on the island of Ireland.
Facebook.com/maynooth.snooker contains further details on Maynooth University Snooker Club, and anyone interested in applying for the Maynooth University Snooker Scholarship should contact Paul Davis, Maynooth University Sports Officer (paul.davis@mu.ie).