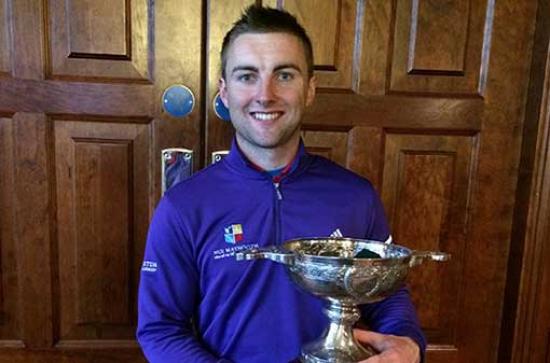 Friday, March 21, 2014 - 00:00
Maynooth University 's Declan Loftus claimed victory in style in a memorable finale at the Irish Intervarsity Championship at The Heritage Golf Club.
Loftus, a Connacht Interprovincial golfer, defeated University of Ulster's Tiarnan McLarnon, the reigning Irish Youths champion in a thrilling playoff that required four holes of sudden death to separate the players.
Loftus had to battle hard to get into the playoff after he reached the turn in six over but showed great determination on the back nine by playing it in one over to keep his chances alive. McLarnon salvaged a great par on the 18th by getting up and down from 20 yards short of the green to tie Loftus on a total of 226.
Over the remaining holes, there was a number of Maynooth University players in contention. Alumni Harrington scholar, Conor O'Rourke (2012 & 2011 runner-up) dropped a number of shots over the last four holes to finish one shot off the playoff and claimed third place on 227. Gary Hurley, the 2012 champion fought hard all day to make a challenge but in the end finished in fourth place on 228, two shots adrift of the leaders.
In the playoff, the first two holes were halved in pars and then McLarnon missed a great chance from five feet on the 3rd hole for par to clinch the title. At the long par 3 fourth, McLarnon's tee shot finished 30 feet behind the flag while Loftus played a superb tee shot to 12 feet of the hole.
McLarnon made a good effort at his putt leaving it within a foot of the hole. Loftus now had a great chance for victory which he took to clinch the title in style with a birdie two.
For Loftus and his supporting Maynooth University teammates, it was sweet revenge after Ulster's McLarnon made the winning putt in the playoff on Wednesday to beat Maynooth University in the final of the Irish Intervarsity Match Play Championship.
Loftus' victory also helped him to claim the Irish Colleges series order of merit title for 2013-14.
Loftus is only the second Maynooth University player to win the championship after Gary Hurley won the first in 2012 at Tramore Golf Club. Maynooth University has had a host of players who finished in the runner-up position over the years, Conor O'Rourke (2011), Kelan MacDonagh (2010), Tommy McGowan (2009) and Brendan Walton (2008).
In the Ladies event, UCD's Chloe Ryan won the Ladies championship by six shots from defending champion Paula Grant (Ulster) with a solid final round of three over. Maynooth University 's Sinead Sexton & Shannen Brown finished in a tie for 4th place.
Irish Intervarsity Championship at the Heritage Golf Club
Final Scores
Men's Championship
226 Declan Loftus (Maynooth University) 70 77 79 – won in playoff, Tiarnan McLarnon (Ulster) 77 70 79
227 Conor O'Rourke (Maynooth University) 75 75 77
228 Gary Hurley (Maynooth University) 76 75 77
229 James Lindsay (Ulster) 80 78 71
230 Kieran Lynch (Maynooth University) 76 76 78
231 Ryan Gribben (Ulster) 78 74 79
232 Jack McDonnell (Maynooth University) 81 78 73
233 Jonathan Yates (UCD) 75 81 77
Ladies' Championship
151 Chloe Ryan (UCD) 76 75
157 Paula Grant (Ulster) 81 76
159 Jean O'driscoll (UCC) 81 78
160 Sinead Sexton (Maynooth University) 84 76, Shannen Brown (Maynooth University) 79 81
For full results visit http://www.gui.ie/home/news/intervarsity-championship-latest-(1)