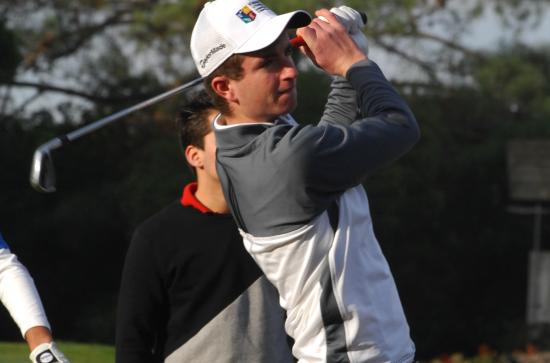 Friday, February 20, 2015 - 00:00
Round 3 (Final Round) - Friday February 20th.
UCD's Alex Glesson claimed the Irish Intervarsity Championship with a closing round of 75. Glesson lead the tournament from day one and continued his excellent form throughout the three days at the tough Brittas Bay venue. Glesson's total of 221 was five shots ahead of Maynooth's Sean Flanagan who had an super final round of 72 to claim second place from teammate Stuart Grehan. Grehan played excellent in the final round and was cruising at one under par through sixteen holes but faltered on the 17th by taking a triple bogey 7 to finish with a 73. Maynooth's overnight challenger Jack Walsh put together a round of 75 to take fourth place despite catching the water on the penultimate hole to finish with a double bogey six.
Maynooth's Eoghan O'Donovan fired a final round 73 to finish in 6th while teammate Ronan Mullarney shot 76 to finish in 7th to complete the five Maynooth players in the top ten. Other notable performances came from final year development player Stephen Kinch who finished in 12th and Alan Lowry who fought back from a first round of 88 with rounds of 75 & 77 to finish just inside the top fifteen.
In the Women's event, Maynooth's Sinead Sexton got to within one shot of leader Jessica Ross (QUB) early on in the round after Ross' shaky opening holes but Sexton struggled to take advantage and finishing the final round with an 80. Ross shot a final round 79 to win by seven shots from Sexton with Maynooth's Shannen Burke in third after a final round 76.
Please click on the following links for more information:
Full results
Irish Golf Desk media updates:
Day 3
Day 2
Day 1
Round 2 - Thursday February 19th
First year scholar, Jack Walsh faired best of the Maynooth contingent after day two of the Irish Intervarsity at the magnificent European Club. Walsh carded a round of 74 to add to his opening 79 and lies in second place on 153, seven shots behind fellow Castle club-mate Alex Glesson (UCD). Glesson continued his fine form posting a level par 71 to add to his superb 75 on day one for a total of 146. Defending champion Declan Loftus, who carded an opening 76, struggled on day two with a round of 86 and lies well back in 13th place.
Walsh a winner of the Munster Youths Championship in 2013, started the back nine with a double bogey on the 10th to go to four over par for his round but bounced back with a birdie on the 11th and an eagle on the 13th to get his round back on track. Walsh will be hoping for a fast start in the final round to make life difficult for Glesson going in to the back nine.
One shot further back are Walsh's first year Maynooth teammates Sean Flanagan and Stuart Grehan. Flanagan, playing alongside Walsh was flying for his round being one under par through fourteen holes but stumbled on the home stretch with bogeys on the 15th & 16th and was unfortunate to take a triple bogey 7 on the penultimate 18th hole for a 75. Grehan was one over par through nine holes but struggled to capitalise on the back nine having a string of bogeys for a round of 77. Both Flanagan and Grehan are eight shots behind the lead but hoping they can post low scores in the final round to challenge for the title.
Maynooth's Stephen Kinch is also going nicely posting a 78 to lie in 7th place. Ronan Mullarney and Alan Lowry showed great character fighting back from 87 & 88 on day one to card rounds of 73 and 75 respectively to get back inside the top fifteen players.
In the Women's event, Maynooth's overnight leader Carla Reynolds slipped back to third place and Maynooth's hopes stand with Irish International Sinead Sexton who bounced back with a round of 77to get within six shots of leader Jessica Ross (QUB).
Round 1 - Wednesday February 18th
In extremely difficult conditions for scoring, defending champion Declan Loftus made a great start to the defense of his title by posting an excellent 76 on the opening day at the European Club. Loftus held the clubhouse lead until the last group in as Alex Glesson (UCD) carded an impressive 75 during the toughest part of the day to take a one-shot lead into day two.
In form Stuart Grehan shares third place with UCD's Ted Collins and NUIG's Peter Fleming all firing solid rounds of 77. Former Irish Boys (U18) International teammates, Sean Flanagan and Jack Walsh played together and urged one another to 79's. Stephen Kinch carded an 80 to tie for fifth place which gives Maynooth five players in the top ten on day one at the tough Brittas Bay venue.
In the women's event, Carla Reynolds capitalized on the moderate early morning weather conditions to post a solid round of 79 and holds a one-shot lead from former Girls (U18) International Jessica Ross (QUB). Sinead Sexton lies in third place seven strokes behind leader Reynolds but will be hoping for a comeback on day two.