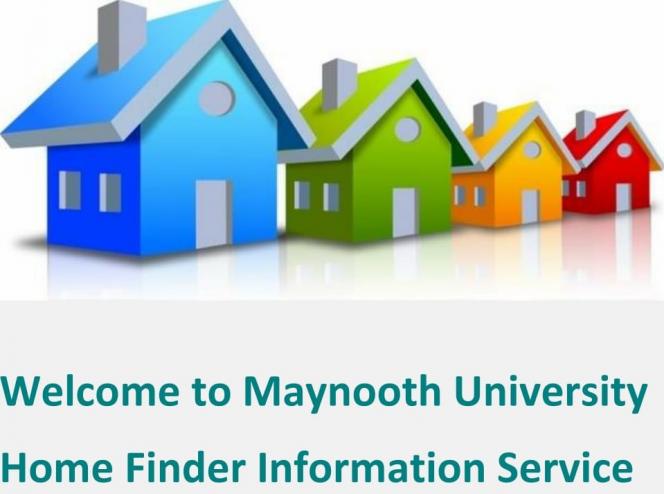 HOMEFINDER is an accommodation information service where you will find:
Options you may wish to consider in your search for accommodation
Resources you are welcome to use, with tips for finding and managing your accommodation
Maynooth University Student Pad Listing Service to help you identify places to live.
There is high demand in the Maynooth student accommodation market and it is advisable to consider all options, use all resources including our listing service and expect that finding suitable accommodation will be time consuming and competitive, in particular for 7 day placements and accommodations located close to the University.
**********************************************************************************
Student Notice
Advertisements for accommodation in the areas local to the University are available to view currently
on www.MaynoothStudentpad.ie You will see there are advertisements for various offerings available
for you. It is very important to review the listings prior to traveling to Maynooth. There are many
advertisements and you will need to shortlist some accommodations that best suit your needs. When
you have a short-list you should make contact with the Landlords directly to arrange viewings and
discuss the possibility of renting their accommodation. Please make sure that you check Studentpad
regularly as new properties are advertised on an ongoing basis.
Adverts can be added by landlords at any stage during each advertising period so it is important to
remember if you are searching for accommodation you should check Studentpad frequently for new
properties!
Top Tip! Set up your Studentpad account to 'alert' you when a property becomes available that suits
your criteria.... you can do this by accessing the settings option on your account.
It is very important that you review the listings first and make some appointments with landlords before
you travel to Maynooth.
**********************************************************************************
Landlord Notice
The current advertising period ends on 31st October 2017.

The next cohort of students who will need to secure accommodation are: Erasmus Semester 2 (January 2018)

Please check this web page regularly for updates of the advertising schedule for this student group.

If you are considering registering as a Landlord for the first time, please visit www.MaynoothStudentpad.ie
and register online as a Landlord.
*********************************************************************************************************
Accommodation Advertising Schedule
Academic Year 2018/2019
| | | | | |
| --- | --- | --- | --- | --- |
| Student Cohort | Landlord Advertising Period | Student Arrival | Length of Stay | Meal Plan |
| Continuing Students | April - June 2018 | September 2018 | 5 or 7 day | Optional |
| Erasmus Full Year & Semester 1 | July - August 2018 | September 2018 | 7 day | Optional |
| First Year Students | August - October 2018 | September 2018 | 5 or 7 day | Optional |
| Erasmus Semester 2 | December 2018 - February 2019 | January 2019 | 7 day | Optional |
Erasmus Students: Erasmus students are International Students that attend Maynooth University for either one semester or one full academic year as part of their home University course. As Erasmus students are visiting from overseas, they require 7 days accommodation.
Continuing Students: 2nd, 3rd and 4th year students, including Undergraduate, Postgraduate and International. Some students will require 5 days accommodation from Monday to Friday and others will require 7 days accommodation. It is common for some continuing students to opt for 5 days accommodation and avail of a weekend stay from time to time - usually during examination periods.
First Year Students: Incoming first year students who will be attending Maynooth University for the first time. They will require either 5 days accommodation or 7 days accommodation. Similar to continuing students, it is common to opt for 5 day accommodation and avail of a weekend stay during examination periods.
_____________________________________________________________________________

Please note Maynooth University offers the Maynooth Studentpad site in good faith and is intended for general information purposes and should not be relied upon as the basis for making any decision. It is offered as a courtesy to both students and local landlords. Please be aware that the properties have not been inspected by the University and University does not carry out Garda Vetting on prospective landlords. You should note, we do not retain information on the performance of these accommodations year to year.
_____________________________________________________________________________
You want to Find or Offer Accommodation on Maynooth University Listing Service?
Click on the description that best describes you for more information below.

| | | |
| --- | --- | --- |
| | | |
| New or Current Student | Kilkenny Students | Information for Landlords |