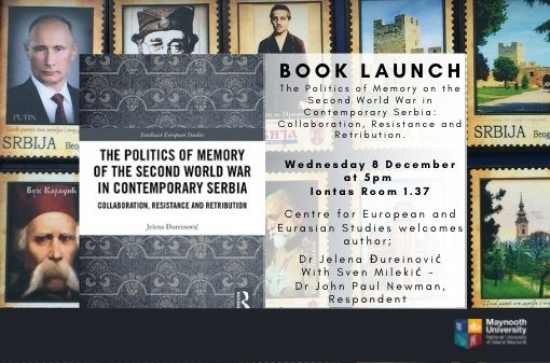 Wednesday, December 8, 2021 -

17:00

to

18:00
Join Dr Jelena Đureinović, and Dr John Paul Newman for this webinar to Launch Jelena's new book, "The Politics of Memory on the Second World War in Contemporary Serbia: Collaboration, Resistance and Retribution. "
The MU Department of History, MU Social Sciences Institute, the MU Arts and Humanities Institute and Centre for European and Eurasian Studies welcome Dr Đureinović for this launch.
Dr Jelena Đureinović, currently a visiting fellow at the Arts and Humanities Institute, will discuss her book The Politivs of Memory of the Second World War in Contemporary Serbia: Collaboration, Resistance, and Retribution, published by Routledge in 2019.
Since the overthrow of Slobodan Milošević in 2000, memory politics in Serbia has undergone drastic changes in the way in which the Second World War and its aftermath is understood and interpreted. The glorification and romanticisation of the Yugoslav Army in the Homeland, more commonly referred to as the Chetnik movement, has become the central theme of Serbia's memory politics during this period. The book traces their construction as a national antifascist movement equal to the communist-led Partisans and as victims of communism, showing the parallel justification and denial of their wartime activities of collaboration and mass atrocities. The multifaceted approach of this book combines a diachronic perspective that illuminates the continuities and ruptures of narratives, actors and practices, with in-depth analysis of contemporary Serbia, rooted in ethnographic fieldwork and exploring multiple levels of memory work and their interactions.