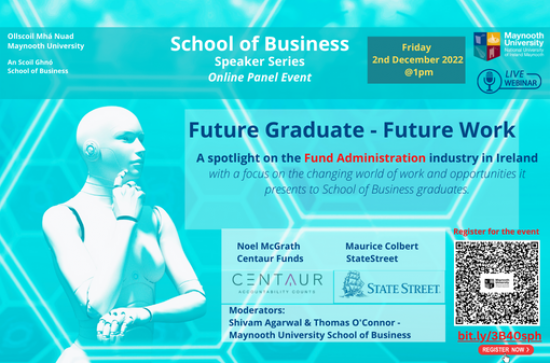 Friday, December 2, 2022 -

13:00

to

14:00
MS Teams Webinar - Register bit.ly/3B40sph
Join us live on MS Teams Webinar Friday 2nd December at 1pm for a very special Industry Panel speaking event as part of our ongoing Industry Speaker Series.
This session will focus on the Fund Administration Industry in Ireland. As an industry that employs over 17,000 professionals directly and an equivalent figure indirectly across Ireland there are a multitude of careers and career paths available to graduating students in this industry.
For this Industry Panel Speaking event- we are delighted to have Maurice Colbert Managing Director from StateStreet and Noel McGrath (alumni), Senior Client Services Manager from Centaur Funds, two local yet global employers in Fund Administration. They will not only share their insight of a growing industry but also provide students with practical career advice relating to careers within the Funds Industry.
So if you have ever wondered what the fund administration industry is– whether a career in the industry is right for you - what the difference might be between a fund accountant and fund administrator – what is custody – what is back or middle office – what careers look like in the industry and what skills are required for certain roles then DO NOT MISS this Industry Panel Speaking Event.
Register for this event now and join the talk live on Friday 2nd of December at 1pm via MS Teams Webinar
It will be hosted by Thomas O'Connor (Lecturer & Assistant Professor) & Shivam Agarwal (Lecturer & Assistant Professor) from the School of Business
You can register for the event via this link (bit.ly/3B40sph) or through the QR Code in the picture.