Overview of the Programme Advisory Office
Within the Office of the Dean of Teaching and Learning, the Programme Advisory Office is available to assist and advise undergraduate students, including incoming first year students, with programme related decisions they may be unsure about before and after the registration period. The Programme Advisory Office is a guide for students as they navigate their own way through their programme options.

The Programme Advisor will brief all incoming first year students during your Welcome Week about the Programme Choices you will be asked to make during their academic journey at Maynooth University. Continuing second year students may also avail of the service if you are unsure about your programme options for example if you have any questions about the flexible degree pathways (major or major w/minor options) or whether or not to choose to take an Elective.
First year Second Semester Subject Change
Some changes of registration may be allowed before the start of the second semester. However, changing registration is a serious step as it restricts progression options, and may result in an inability to progress. Please have a look at this Presentation to see if you are allowed to change your subjects. If you have any questions please contact the Programme Advisory Team either via email or using the form linked below in our getting in touch section. If you wish to apply to change your subject you can do so by completing this Application Form . Access to the form will be available from Monday 17th January and applications will close at 5.00pm Friday 11th February. No late applications will be considered.
Year 2 Planning Information Sessions for current First year students #BeSeptemberReady Information Sessions Wednesday 22nd and Thursday 23rd June
The Programme Advisory Office will host further information sessions via MS Teams on Wednesday 22nd June and Thursday 23rd June to assist you to prepare for second year. We want you to #BeSeptemberReady See the posters below for the times and registration information below. Registration is now open for anyone wishing to attend the sessions. There is a separate registration form for each of the presentations available below.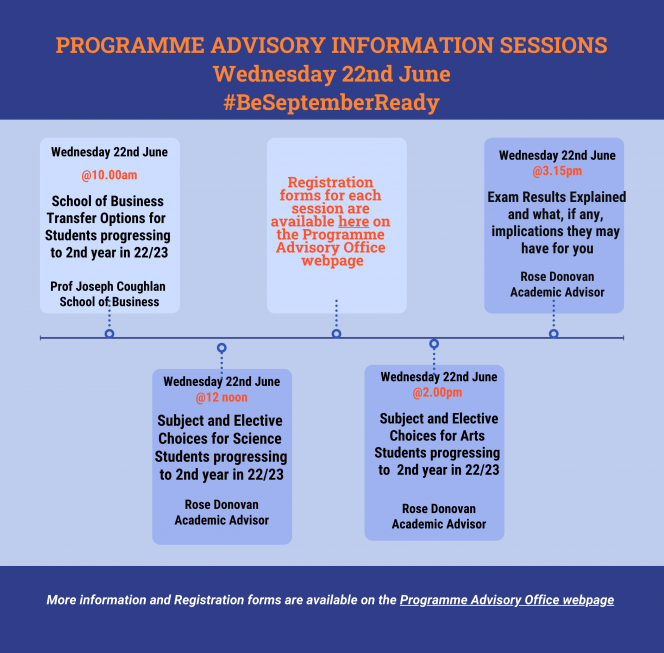 The talks have been designed to get you thinking about your second year choices, to get you excited about the next stage of your academic journey at Maynooth University, but most importantly, to give you lots of time to research your options before you make your second year programmes choices.
Registration forms for the Year 2 #BeSeptemberReady Information sessions on Wednesday 22nd Thursday 23rd June are linked below :
Arts Students Subject Choice and Elective Options for 2nd year Explained
Science Students Subject Choice and Elective Options for 2nd year Explained
Understanding your Exam Results
School of Business Transfer Options for Students progressing to 2nd year in 22/23
Using the Careers Service and Thinking about Teaching as a Career
The PAO Office is open on Tuesdays, Wednesdays, and Thursdays each week commencing 28th September 2020.
​Our email is programme.choices@mu.ie
All queries will be handled via email, MS Teams calls or you can complete this form and we will get back to you as quickly as possible.
Week 12 Semester 2 Programme Advisory Newsletter