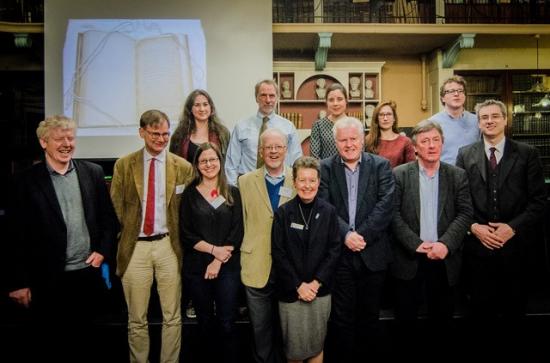 Monday, March 25, 2019 - 14:30
Ar an seachtú agus ar an ochtú lá de Mhí an Mhárta, bhí comdháil lámhscríbhinní den teideal "'A little remnant of the work of the ancients' 23 N10: The Book of Ballycummin" ar siúl in Acadamh Ríoga na hÉireann a d'eagraigh muintir an Acadaimh i gcomhar le muintir Roinn na Sean-Ghaeilge in Ollscoil Mhá Nuad. Ba é mórthéama na comhdhála ná lámhscríbhinn ón séú aois déag ar a gcuirtear Leabhar Bhaile an Choimín, ainmnithe don bhaile fearainn i gContae Ros Comáin inár scríobhadh é.
Pléadh conas mar a cuireadh Leabhar Bhaile an Choimín le chéile, conas mar a tháinig sé slán thar na blianta agus cé chomh luachmhar is atá sé ó thaobh scoláireacht na Sean-Ghaeilge de. S'éard atá tar éis bheith tugtha chun solais ag taighdeoirí ag obair ar Leabhar Bhaile an Choimín ná cuid den litríocht is sine a bhfuil fáil againn uirthi sa Ghaeilge chomh maith le téacsanna dlí, filíocht agus críonnacht.
Thug triúr léachtóirí ó Roinn na Sean-Ghaeilge cainteanna astú faoin Leabhar le linn na comhdhála agus ba iad sin an Dochtúir Elizabeth Boyle, ceann na roinne, an tOllamh David Stifter, príomhfhiosraitheoir ar an tioscadal "Chronologicon Hibernicum", agus an Dochtúir Deborah Hayden, príomfhiosraitheoir ar an tionscadal "Medieval Irish Medicine in its North-Western European Context".