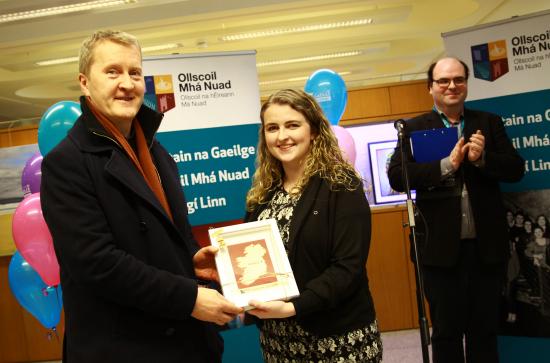 Tuesday, April 30, 2019 - 19:00
Tá claonadh ag tráchtairí cultúrtha dul i mbun cainte agus díospóireachta faoi athbheochain áirithe – an athbheochan Ioslamach, an athbheochan Ghotach, athbheochan na Gaeilge, ar ndóigh – ach i leabhar nua-fhoilsithe atá scríofa ag Ceann Roinn na Nua-Ghaeilge in Ollscoil Mhá Nuad, an tOllamh Fionntán de Brún, leagtar an bhéim ar an méid a roinneann na gluaiseachtaí seo go léir, athbheochanas é féin.
Pléann an leabhar den teideal Revivalism and Modern Irish Literature: The Anxiety of Transmission and the Dynamics of Renewal stair na smaointeoireachta agus forbairt an athbheochanais i gcomhthéacs litríocht na Gaeilge le ceithre chéad bliain anuas. Measann an tOllamh de Brún gur tábhachtach an rud é le céad bliain caite ó thréimhse Athbheochan na Gaeilge an fhírinne a aithint go raibh ceannairí na hathbheochana sin, Yeats, an Bantiarna Gregory agus a gcomrádaithe, ag tarraingt ar thraidisiún an athbheochanais a théann chomh fada siar leis an seachtú haois déag, i gcás na Gaeilge pé scéal é.
Is foilsithe ag Cork University Press atá Revivalism and Modern Irish Literature agus beidh sé seolta go hoifigiúil ag Léachtaí Cholmcille na bliana seo, a bhfuil "Comóradh an Leathchéid: Téamaí agus Tionscadail Taighde" mar theideal orthu agus a bheidh ar siúl ar an 26ú agus 27ú de Mhí Aibreáin 2019.