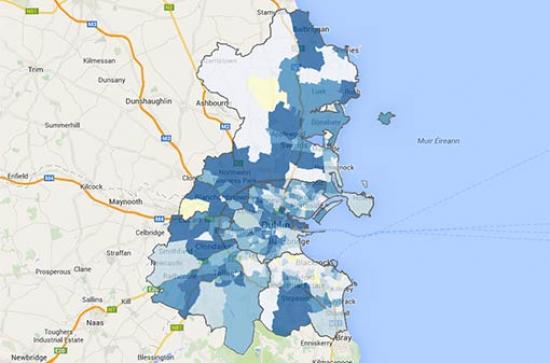 Thursday, October 19, 2017 - 10:30
Maynooth University's All-Island Research Observatory (AIRO) today launched the Census 2016 Mapping Viewer, an online tool that allows planners, policymakers and the general public to map hundreds of types of data across Ireland at the local level.
The Viewer provides access to vast amounts of information collected in the 2016 Census: population change, demographic profiles of local areas, and many additional indicators that can assist in understanding the social, economic and environmental characteristics of Ireland today.
The Viewer consists of mapping tools based on Census Small Area and Electoral Division geographies, so users can analyse national trends and zoom in to the most detailed neighbourhood level. Information is available for more than 18,000 individual areas across the country.

The launch of the Mapping Viewer is one of three signature events opening Maynooth University's Research Week 2017.
Essentially a public service project, AIRO provides maps, data analysis, policy advice, research and training. Working with both public and private sector organisations, AIRO interrogates, presents and interprets a wide variety of different types of information, from population data and housing to wind energy and crime, and much more.
Speaking at the launch of the Census 2016 Mapping Viewer, AIRO Director Justin Gleeson said: "Our Census Mapping toolkits provide users with the most detailed census mapping in Ireland and are available at the national, regional and local levels. Working in close collaboration with the Central Statistics Office (CSO) we have developed mapping tools for the Republic of Ireland and every regional and local authority across the State. Central to AIRO's philosophy is the belief that all decision-making should be informed by accurate and transparent evidence. We can now visualise Irish data on population, religion, place of birth, ethnic group, housing, labour force, industry, transport and general health. This is essential data and insight to be used for future policy development in Ireland such as Local Economic and Community Plans, Regional Economic and Spatial Strategies and the National Planning Framework.
"Over the coming months, we will further add to this portfolio of mapping expertise, and develop new insights into how Ireland operates and how we can best plan for the future."
President of Maynooth University, Philip Nolan, said: "I am delighted to launch the Census 2016 Mapping Viewer, an exciting new development in the AIRO project. This public service is of huge advantage to the public, planners, policy makers—and to people like me trying to plan for the future of the University.
"This latest development by AIRO is a wonderful example of how Maynooth researchers bring their expertise to life and are able to inform public policy with evidence, but in a way that's accessible to the broader citizenry. It's also an example of how our academic community collaborates with partners—whether it be across the globe, across Ireland or across campus—to address some of the most pressing challenges facing society today. We are distinct in this approach, bringing a collegiality that fosters true inter-disciplinary thinking. Research Week 2017 is an opportunity for the public to see the unique value and impact of Maynooth University research up close, and this new Census 2016 Mapping Viewer is a prime example of that."
Deirdre Cullen of Central Statistics Office said: "The CSO are now providing a lot more interpretation and analysis of results by incorporating illustrative presentations, thematic maps and easy to read commentary. For anyone involved in research, planning, policy making or indeed those just interested in demographics, the Census 2016 Mapping Viewer is a fantastic tool to get a really good picture of life in Ireland in 2016."
In June 2017, Maynooth University celebrated the 20th anniversary of its founding as an independent university. Research Week 2017 is part of a year-long series of programmes and activities marking this milestone. The launch of the Census 2016 Mapping Viewer is one of the key events for Research Week.
View the complete schedule for Maynooth University Research Week 2017 at: www.maynoothuniversity.ie/research-week.