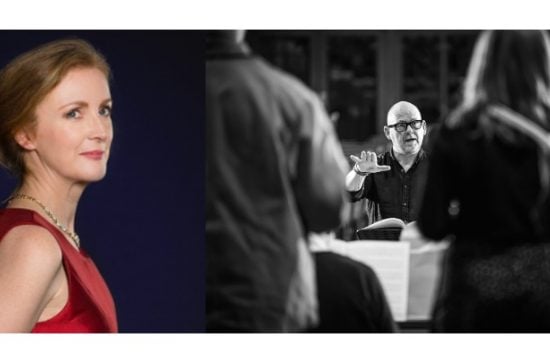 Thursday, November 23, 2023 - 13:00
Riverstown Hall
Oblivion soave
(Sweet oblivion)

Mark Chambers - Countertenor
Siobhán Armstrong - Italian baroque triple harp

Laudate dominum in sanctis eis Claudio Monteverdi (1567-1643)
From Selva morale e spirituale 1641

L'Eraclite amoroso Barbara Strozzi (1619-1677)
From Cantate, ariette, e duetti Op 2 1651

La Rugiade Biagio Marini (1597-1665)
From Scherzi e canzonette Op.5 1622

Versa est in luctum Bartolomeo Barbarino (c1568-c1617)
From il primo libro de motetti 1610

Scocca pur tutti tuoi strali ?Giovanni Battista Draghi (c. 1640–1708)
From Musick's Hand-Maid 1689

Ave verum corpus Giovanni Pierluigi da Palestrina
From Regole, passaggi di musica, madrigali ornamented by Giovanni Battista Bovicelli
et motetti passeggiati Venice, 1594

Adagiati Poppea…Oblivion soave Claudio Monteverdi
From L'Incorinazione di Poppea 1642

Amor dormiglione Barbara Strozzi
From Cantate, ariette, e duetti Op 2 1651
Mark Chambers- Counter Tenor
Since leaving the Royal Northern College of Music in 1992 Mark has performed all over the world with many leading groups and conductors.
Solo work has included Bach St Matthew Passion and Mass in B Minor with Sir John Eliot Gardiner, Monteverdi Vespers of 1610 and the New Venetian Coronation (performances and recording for Deutsche Gramophon) with Paul McCreesh and a recording with Nederlandse Bachvereniging of Beloved and Beautiful conducted by Jos van Veldhoven.
Operatic work has included many roles in Handel operas; Xerxes(Arsamenes), Agrippina (Narciso), Amadigi (Dardano), Tamerlano (Andronico), Il Pastor fido (Silvio)and Monteverdi Orfeo (Speranza) in a Jonathan Miller production. He sang the soprano role of Pilpatoe in Carl Heinrich Graun's Montezuma for Musikfestspiele Potsdam in the Schlosstheater in Sanssouci Palace. Mark has also worked at the Royal Opera House as understudy for the role of Snake Priestess in Harrison Birtwistle's world premiere The Minotaur and as understudy of Fate in Judith Weir's Miss Fortune.
Mark works regularly with many of the world's leading choirs and ensembles including Tenebrae, Gallicantus, The Monteverdi Choir, The Gabrieli Consort, Alamire and Gramophone award winning Binchois Consort. He is a full time member of Chamber Choir Ireland. Mark has made many recordings, including a solo recital of songs by Edmund Rubbra and R. Vaughan Williams with David Mason (piano), a series of discs with The English Cornett and Sackbut Ensemble with music from Italy ( Accendo ) Germany ( A Hanseatic Festival ) and England ( Flower of Cities All ). Mark took part in the live recording of J.S. Bach St Matthew Passion with Ex Cathedra and Jeffrey Skidmore from Symphony Hall, Birmingham.
In the commercial world Mark has created the Voice of the Ood for the Dr Who series for BBC television with music by Murray Gold and has been featured as a soloist in the electro acoustic score for Genus; a commission by Paris Opera Ballet by Joby Talbot (also soon to be featured in a film about the project). Other film work includes The Hitchhiker's Guide to the Galaxy and Elizabeth The Golden Age.
Siobhán Armstrong
Siobhán Armstrong is a performer, academic, passionate educator, and one of Europe's rare harpists playing pre-1800 repertory on reconstructions of medieval to baroque harps. She feels very fortunate to perform and record with prestigious vocal soloists and instrumentalists, period-instrument ensembles, orchestras and baroque opera companies in the UK, Ireland, and further afield, mainly in Europe. As founding director of The Historical Harp Society of Ireland, she is spearheading the international rediscovery of Ireland's ancient harp, strung in brass wires. With this instrument she also performs with prominent Irish singing and piping colleagues. In 2014, Siobhán located a lost historic Irish harp and, in 2016, commissioned the first ever 3D-laser scan of a music instrument at The National Museum of Ireland. Her PhD (Middlesex, London) has unlocked new information about Irish harp performance practice in the pre-1800 indigenous tradition. The debut CD of her ensemble, The Irish Consort—Music, Ireland and the Sixteenth Century—has shed light on a neglected century in Irish music, and was an Irish Times international classical-music recordings top-five pick of 2021. Siobhán would like to acknowledge the kind support of The Arts Council of Ireland for her work.