Friday, October 15, 2021 - 10:00
The Royal Irish Academy has today awarded the prestigious undergraduate Hamilton Prize to the top mathematical students in their penultimate year of study as nominated by their university. Ibec, who sponsor the RIA prize and Hamilton Day activities, see developing STEM talent as a key role in safeguarding Ireland's economic future.
The ceremony took place today to mark Hamilton Day, on the eve of the anniversary of famed Irish scientist William Rowan Hamilton's discovery of quaternion algebra on 16 October 1843. The 2021 Hamilton Prize winners are Edwina Aylward, Trinity College Dublin; Isabel Cooke, Technological University Dublin, Aaron Cooney, Dublin City University; Emma Herd, Queen's University Belfast; Dan Kelly, University Limerick; Ciara Murphy, University College Dublin; Eoghan Murphy, Maynooth University; Ciara O'Keefe, University College Cork; Lijun Zou, NUI Galway.
In recognition of their mathematical excellence, the students each receive a cash prize of €250, a certificate of achievement and are invited to attend an exclusive masterclass with the 2021 Hamilton Lecture speaker Caroline Series, Emeritus Professor of Mathematics at the University of Warwick. Following the ceremony, they enjoyed a private audience with Dr Aoibhinn Ní Shúilleabháin in conversation Professor Caroline Series.
Dr Mary Canning, President of the Royal Irish Academy said,
"The Hamilton Prize recognises these outstanding young mathematicians as they enter their final year of studies in universities all around the island of Ireland. We celebrate Hamilton Day because Ireland has a rich history of scientific excellence, but through this prize we also look to the future. In honouring their academic excellence and we hope to support and encourage the next generation of great Irish scientists."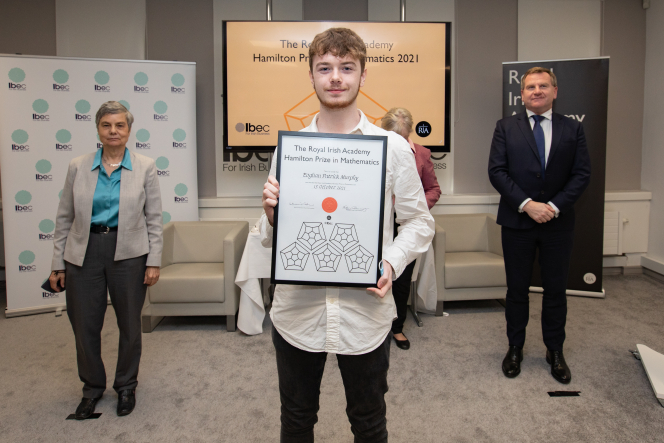 Eoghan Murphy, Maynooth University