Mathematical Enrichment Programme
Enrichment classes for the 2019 Mathematical Olympiad start in Maynooth on Saturday, 12th January 2019 at 10am in Callan Hall.
Students planning to attend Maths Enrichment at Maynooth University are required to fill out the Maths Enrichment Registration Form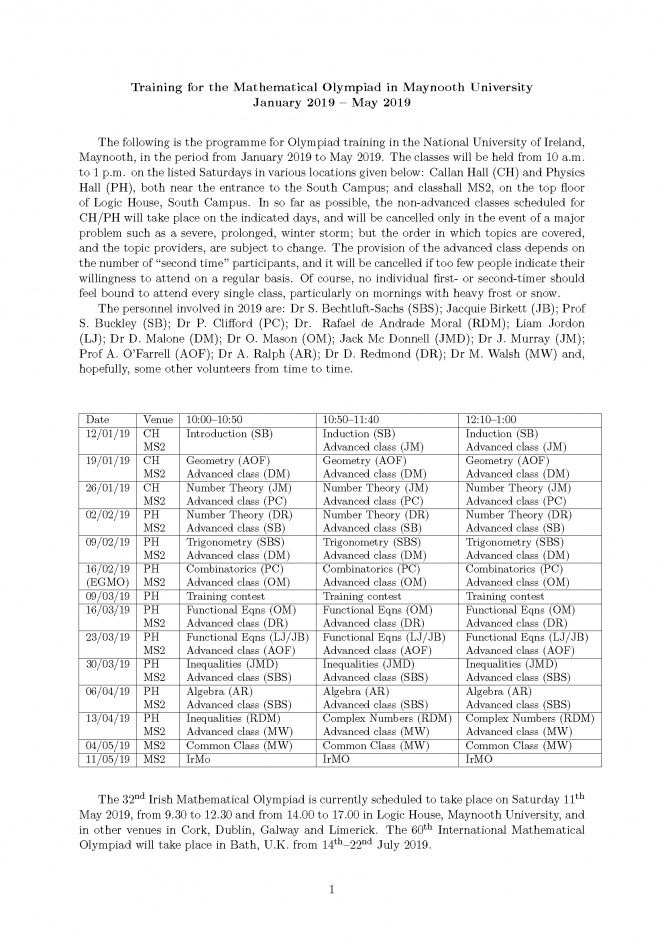 Maths Enrichment Training Schedule 2019
is also available in PDF format.
Mathematical Enrichment classes are held in 5 centres in Ireland, participation is open to all interested secondary school students. Attendees of the enrichment classes are also invited to participate in the Irish Mathematical Olympiad - final round to select the Irish team for the International Mathematical Olympiad 2019.
The 60th International Mathematical Olympiad will take place in Bath, UK 2019.
The 32nd IrMO — Round 1 takes place during the week of 12th - 16th November, 2018. Full details are available at http://www.irmo.ie/Round-1.html
The 32nd IrMO — Final Round takes place on 11th May, 2019. This more advanced contest consisted of two 3-hour papers with five problems on each paper.

The IRMO 2018 roll of honour lists the top 25 contestants from across the country. Those placed 1–6 are invited to form the team to represent Ireland at the 59th International Mathematical Olympiad in Romania.