Senior Mathematical Enrichment Programme
Classes are cancelled until further notice - 12/03/2020. IrMO POSTPONED
Senior Mathematics Enrichment classes for the 2020 Mathematical Olympiad start in Maynooth on Saturday, 18th January 2020 at 10am in Callan Hall.
Draft schedule of classes for 2020: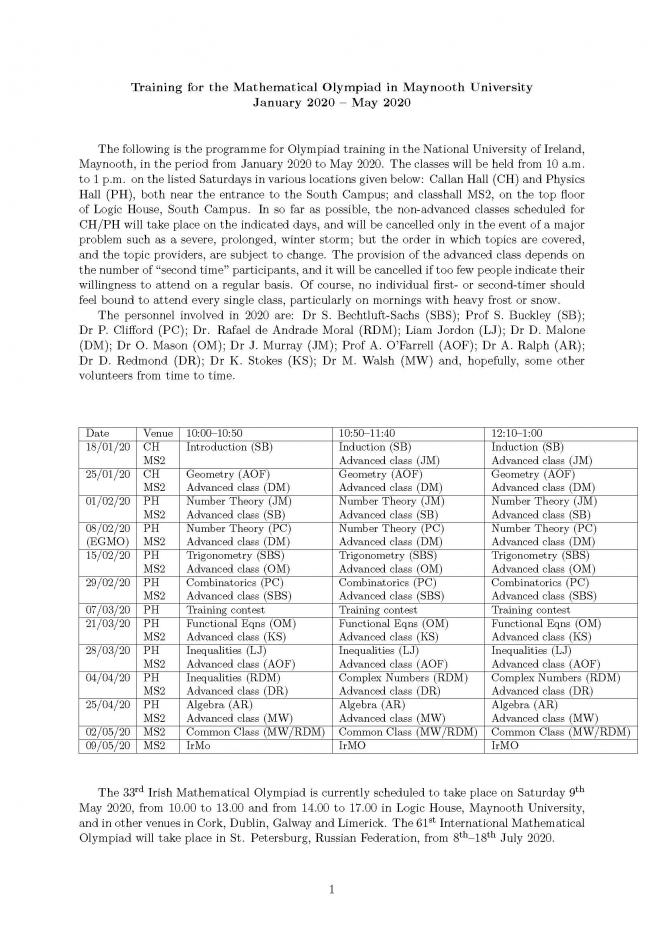 Students planning to attend Senior Maths Enrichment classes at Maynooth University will be required to fill out the Maths Enrichment Registration Form .
Mathematical Enrichment classes are held in 5 centres in Ireland, participation is open to all interested secondary school students. Attendees of the enrichment classes are also invited to participate in the Irish Mathematical Olympiad - final round to select the Irish team for the International Mathematical Olympiad 2020.
The 61st International Mathematical Olympiad will take place in St. Petersburg, Russian Federation from 8th to 18th July 2020.
The 33rd IrMO — Round 1 takes place during the week of 14th - 18th November, 2019. Full details are available at http://www.irmo.ie/Round-1.html
The 33rd IrMO — POSTPONED. This more advanced contest consisted of two 3-hour papers with five problems on each paper.
Contact email address for queries relating Senior Maths Enrichment in Maynooth University: mathsoutreach@mu.ie