Our alumni form a very special community of graduates from both the Kimmage Development Studies Centre and Maynooth University. We, at the new Department of International Development at Maynooth University (formerly Kimmage DSC), are keen to sustain the great links we have had with our alumni community over many years.
As a graduate of either Kimmage DSC or Maynooth University, you will always be a member of our alumni, that will never change. However, to ensure compliance with GDPR consent requirements, we need to confirm that you would like to receive communication from us with regard to alumni events, our work, and other relevant news. This may be in the form of a newsletter or an event invitation, circulated via email.
We would love to keep in touch with you, if you are happy to hear from us, please complete the consent form.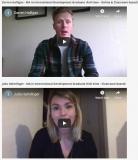 Check out what some of our alumni are saying about their MA in International Development experience