Saturday, April 14, 2018 -

10:30

to

17:00
Maynooth University
* UPDATE: CLICK HERE FOR THE FINAL FLYER IN PDF FORMAT *
Maynooth University will host the 2018 Festival of Food Sovereignty. Social movements, activists, scholars and practitioners around the world use the term 'food sovereignty' as a way to highlight the scope that exists for all of us to create a food system around the core principles of justice, ethical production and consumption, ecological sustainability, and democracy. Food sovereignty is a live issue in Ireland. A growing number of people are familiar with and support food cooperatives, community supported agriculture schemes, social farming, seed saving, beekeeping, and more.
The Festival of Food Sovereignty aims to bring together practitioners and the general public to celebrate and explore the possibilities of constructing food sovereignty in Ireland. There will be talks, conversations, workshops, music, art, activities for kids, and food.
Invited attendees include practitioners and activists from European Coordination Via Campesina; Trocaire; Afri; Food Sovereignty Ireland; Dublin Food Co-Op; Irish Seed Savers; Cultivate; Community Supported Agriculture, Ireland; ShamrockSpring; and the Edible Landscape Project, Westport. Other participants include Jun Borras, Anja Murray, Rebecca Sandover, Eamon Slater, Patricia Kettle, Luci Gorell Barnes, Jeanne van Heeswijk, Niamh McDonnell, Katherine Waugh, and Anne-Marie Culhane and Ruth Levene.
The event is curated by Maynooth University staff and students from the departments of Adult Education, Anthropology, Education, Froebel Department of Primary and Early Childhood Education, International Development, Geography, and Sociology.
It is part of a broader program in Ireland, including this exciting event in Galway, April 12, which will establish new international dialogue with artistic practitioners from Ireland, Britain and the Netherlands.
====
Please make a plan to come along, participate, and exchange ideas about how to change our food system for the better.
If you would like to have a stall or if you have a question, please email: foodsovmaynooth@gmail.com
Public welcome to attend.
This event is part of Maynooth Week 2018. In June 2017 Maynooth University celebrated the 20th anniversary of its founding as an independent university. Maynooth Week 2018 is part of a year-long series of programmes and activities marking this milestone.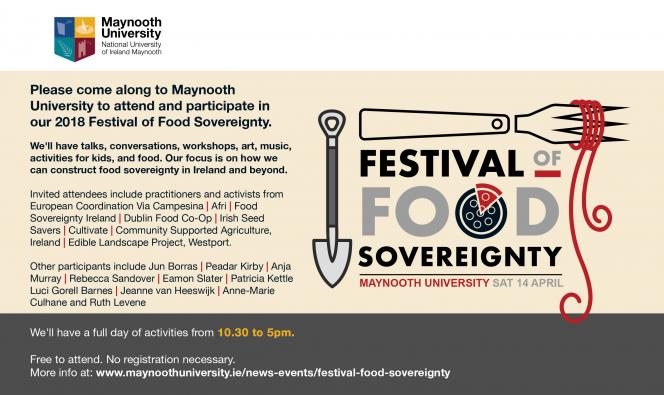 ​