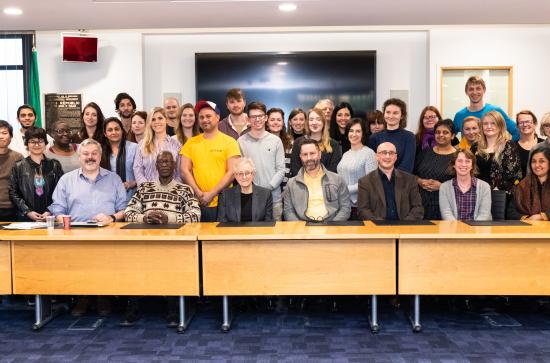 Monday, February 4, 2019 - 16:45
The Department of Anthropology this week hosted world-renowned anthropologist Marilyn Strathern as a guest during its annual Ethnography Winter School.
This was the sixth year of the school, which is an immersive one-week PhD module focused on contemporary thinking about ethnographic research and writing. The School draws students studying in diverse disciplines from many universities in Ireland and elsewhere, and this year students came to Maynooth from NUI Galway, DCU, the University of Florence, University College London, and UCC.
Strathern was for many years the William Wyse Professor of Social Anthropology at Cambridge University, where she is currently Emeritus Professor of Social Anthropology. She is known world wide for her theoretical innovations drawing on decades of ethnographic work in Papua New Guinea. Her work has made paradigm-shifting contributions to studies of kinship, gender, property, law, audit culture, and more. She is widely regarded as one of the most important anthropologists of the last 50 years.