The Maynooth University Anthropology Society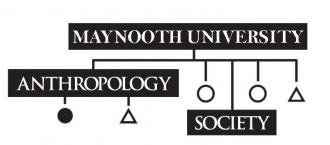 The Anthropology Society was revived in the summer of 2011 by a small group of undergraduate students: Jennifer McConnell, Thomas Kehoe, Nicola Reynolds and Dominica Tracz. They were determined to revive the society and make it a worthwhile forum to enhance the drive to learn more about anthropology, and an opportunity to get to know fellow anthropology students and the broader student population here in Maynooth and in other universities.
Since then the society has continued to grow from strength to strength, with a full committee and over a hundred members. We hold weekly meetings and a variety of events on and off campus. After our first year we were delighted to win 'Most Improved Society' at the Maynooth University Society Awards in 2012 and then went on to win 'most improved society' later that year at the BIC awards.
Getting involved in the society has lead to great experiences for society members, from attending the MASN conference (moving anthropology student network) in Austria in the summer of 2012; helping to organise an anthropology summer school to Frigiliana in Spain in the summer of 2013; visiting the Anthropology Society in Queens University in Belfast last year (who have since come to visit us in Maynooth); as well as our weekly events which consist of a wide variety of guest speakers, films, social nights, plays and so much more.
We are always eager for new people to get involved, by coming along to events or joining the committee, we aim to keep the society alive by taking members suggestions and feedback on board for future events.
We look forward to seeing you at upcoming events.

If you want to get in touch, please contact us at anthropologynuim@gmail.com​
We are still looking for committee members for the following year. Please contact the anthropology Society on Anthropologynuim@gmail.com if you are interested in joining the committee.
If you see that a role that you are interested in has been taken, we are also looking for people to fill vice roles.
The Anthropology Society Committee for the academic year 2017-18 are:
President: Stuart Lang
Vice President: Beannan Jones
Secretary: Mairead O'Sullivan
Treasurer: Evan Glynn
PRO: Emma Stephenson
Events Officer: Oliver Browne
Facebook: http://www.facebook.com/NUIMAnthroSoc
Twitter: http://twitter.com/#!/NUIMAnthroSoc
Linkedin: http://ie.linkedin.com/in/nuimanthrosoc