Wednesday, October 26, 2022 - 16:30
The Department of Anthropology together with the School of Business were delighted to launch the new BBS in Business & Global Cultures degree (MH404) on 27th September 2022.

This is a unique degree in Ireland enabling students to combine three business subjects with insights into the diverse cultures and ways of living around the world in this collaboration between Ireland's youngest and most dynamic School of Business and the only Anthropology department in the Republic of Ireland.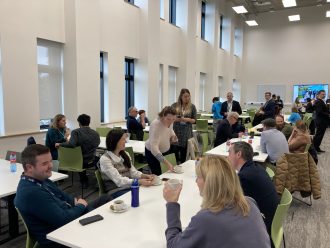 Staff and the wider faculty, students and distinguished guests from industry were invited to the launch event in the new Technology, Science, and Innovation Building.
Dr. Mark Maguire, Dean of the Faculty of Social Sciences opened the event and Prof. Melissa Fisher, a cultural anthropologist and Visiting Scholar at NYU's Institute for Public Knowledge and a Distinguished Principal Research Fellow at the Conference Board, a global think tank, gave a talk entitled 'International Business Ethnography and the Global Reimagining of the Future of Work' which was followed by a discussion and Q&A session.
Earlier in the day the programme directors Marian Crowley-Henry (Business) and David Prendergast (Anthropology) met the first ever cohort of 1st year Business and Global Cultures students and celebrated the launch of the new degree with a pizza party!