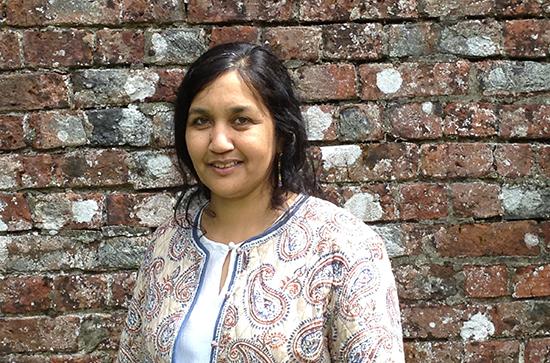 Friday, August 17, 2018 - 15:45
Maynooth University anthropologist, Dr Chandana Mathur, was presented with a Distinguished Service Award at the closing ceremony of the 18th World Congress of the International Union of Anthropological and Ethnological Sciences (IUAES) in Florianopolis, Brazil.
The award was made in recognition of her contribution to the unification in November 2017 of the IUAES and the World Council of Anthropological Associations (WCAA) as two chambers of a single global organisation: the World Anthropological Union (WAU).
Referring to the Distinguished Service Award, Dr Mathur commented: "I had the exceptional privilege of serving as WCAA Chair during the process of the unification of the IUAES and the WCAA, and I am very grateful for this acknowledgement of my efforts to facilitate this historic outcome for the sake of our discipline."
President of Maynooth University, Professor Philip Nolan, said: "We extend our congratulations to Dr Mathur for her well-deserved award from the IUAES. Her work in helping bring together these organisations to create a unified entity is very much representative of the type of forward-thinking, collaborative approach to study that we at Maynooth University espouse."
Dr Mathur served as the Chair of the WCAA from 2016, and her two-year term ended with the WCAA biennial meeting that directly preceded the IUAES World Congress.
Dr Mathur will continue to be associated with the WCAA as a member of its advisory board. She will also remain engaged in international exchanges in her discipline with her recent appointment to the 'World Anthropologies' seat in the American Anthropological Association's Members' Programmatic Advisory and Advocacy Committee (MPAAC).
The MPAAC is a committee within the American Anthropological Association that oversees the Association's work in eight priority areas: ethics; human rights; labour and workforce; public policy; racialised minorities; gender equity; practising, public and applied sector; and internationalisation.
Other anthropologists who received Distinguished Service Awards at the 18th IUAES World Congress were: Greg Acciaioli (Australia), Miriam Grossi (Brazil), Faye Harrison (USA), Peter Nas (The Netherlands), Thomas Reuter (Australia), Soheila Shahshahani (Iran), Andrew Spiegel (South Africa) and Vesna Vucinic (Serbia).