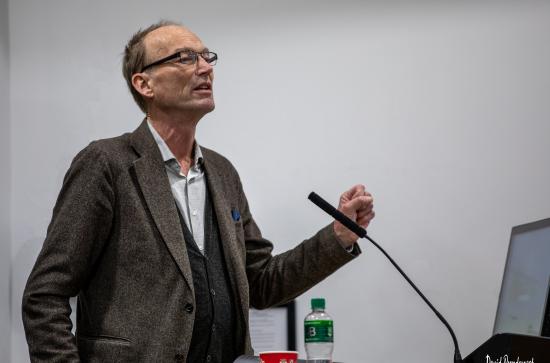 Tuesday, March 31, 2020 - 14:15
Dean's Lecture on the realities of Globalization on the cusp of COVID-19 measures
Just two days before the announcement of university restrictions related to COVID-19, Professor Thomas Hylland Eriksen (University of Oslo), a foremost anthropologist of ethnicity, nationalism and globalization and a critical public commentator, delivered the Dean's Lecture on the effects of accelerated global change. In his talk, introduced by Dean Mark Maguire and Head of Anthropology Department Hana Cervinkova, Eriksen highlighted the effects of "overheating" a conceptual category which brings into critical juxtaposition three major crises of globalization - economy/ finance, environment/climate and identity/culture. Drawing on examples from his multi-sited ethnographic research (2012-2017 Advanced ERS Grant), Eriksen highlighted the dramatic alterations to the environment, economic transformations and social rearrangements, which call for the need to explore the relationship between knowledge and power at this critical moment in humanity's history.
"Knowledge and Power in an Overheated World: Fake News, Neoliberalist Hegemony and the Rise of Nativist Politics"
Professor Thomas Hylland Eriksen, Tuesday 10th March, Dean's Lecture hosted by the Anthropology Department as a part of the MU Social Justice Week.