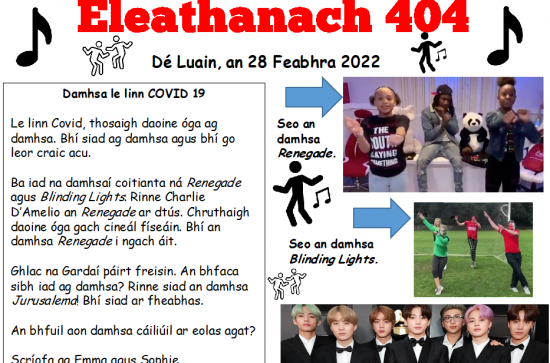 Friday, March 4, 2022 - 13:45
Cuireadh ceardlann scríbhneoireachta ar fáil do scoláirí an bhonnchúrsa ar an 24 Feabhra 2022 leis an Dochtúir Máire Nic an Bhaird ó Roinn Froebel. Is í Caroline Ní Ghallchobhair teagascóir an ghrúpa agus d'oibrigh sí in éineacht le Máire chun an deis scríbhneoireachta a eagrú dá cuid scoláirí.

Is áis léitheoireachta í Eleathanach a bhíonn ar fáil gach Luan saor in aisce ó Roinn Froebel don Bhun- agus Luath- Oideachas. Tá an Eleathanach dírithe ar rang a cúig agus a sé sa bhunscoil. Bronnadh an Séala Eorpach Teanga ar an togra seo. Is nuachtlitir leictreonach í a mhúsclaíonn spéis na bpáistí sa teanga. Ar mhaith leat an Eleathanach a fháil ar ríomhphost gach seachtain? Cliceail anseo https://listserv.heanet.ie/cgi-bin/wa?SUBED1=ELCH&A=1 agus cuirfear an an liosta tú!

Scríobh na scoláirí ón togra Turn to Teaching ailt éifeachtacha d'eagrán 404 den Eleathanach. Roghnaigh na scoláirí na téamaí éagsúla agus d'oibrigh siad i ngrúpaí beaga sa cheardlann. Chabhraigh Máire leo maidir le caighdeán na teanga do na páistí scoile agus bhí piarmheasúnú ar siúl i rith na ceardlainne. Dúirt Máire "bhí caighdeán ard Gaeilge ag an ngrúpa agus bhí siad an-dearfach i leith na teanga. Is léir go bhfuil an-obair déanta acu ó thús na bliana acadúla. Bhain mé an-taitneamh as an gceardlann agus ba bhreá liom obair leis na scoláirí seo arís". Is údair iad na scoláirí seo anois. Tá ailt foilsithe acu trí mheán na Gaeilge agus táimid an-bhródúil astu! Turn to Teaching abú!