Think About Teaching Foundation Cert is a one year, Level 6 university preparation or access course for people who have an interest in teaching as a career path.
Please note that the 2023-2024 Think About Teaching Foundation Cert is aimed exclusively at those interested in becoming primary teachers.
The purpose of the course is to allow students to critically reflect on their own educational stories both individually and collectively as they work through educational and career pathways. The course also prepares students for the academic, social and cultural opportunities and challenges of university study.
The course is run by staff from the Department of Adult and Community Education in partnership with the Froebel, Department of Primary and Early Childhood Education, the Department of Education (secondary), Maynooth Access Office (MAP), and the Admissions Office.
The School of Education is unique in Ireland in having four academic departments which cover teacher education and development from early childhood, through to primary, secondary and further education.

Programme Structure
Students studying on the programme will attend an Irish language competency module (Cumas na Gaeilge) that meets the requirement for entry into Primary Initial Primary Teacher Education programmes such as the Bachelor of Education (B.Ed) [undergraduate] and the Professional Masters of Education (PMEd) [postgraduate].
Students will also participate in Maths and English competency classes, as well as a programme of supportive, academic development classes aimed at supporting students to integrate into the academic and social life within the university.
Students will develop practical knowledge and experience of teaching throughout the course and in partnership with school partners.
If you are applying for the programme, you must have had some Irish language experience prior to application- this will be individually assessed upon application.


Possible progression routes on successful completion of the Foundation Cert: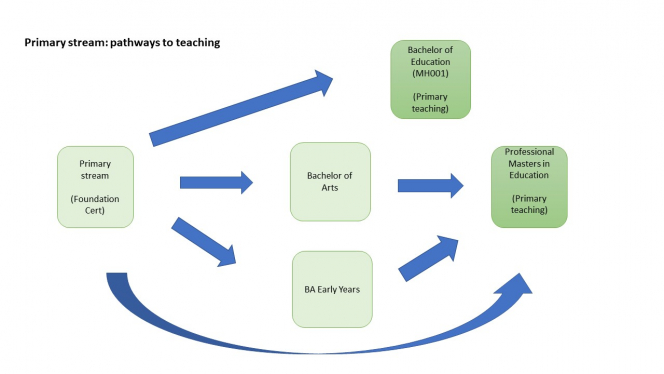 There are a number of pathways to becoming a primary teacher. Graduates of the Think about Teaching Foundation Certificate will gain entry to the
Bachelor of Education (BEd) (MH001)
programme which leads, on successful completion, to a primary teaching qualification.
A small number of students on the Think About Teaching Foundation Cert may already have a degree. These students may progress to a Professional Masters of Education (Primary Teaching) [post-graduate]. The Professional Masters of Education (Primary Teaching) also leads on successful completion, to a primary teaching qualification.
Graduates of the programme also have the option of progressing to a Bachelor of Arts degree (often called a 'B.A') (MH101). That degree, in itself, will not lead to a teaching qualification but it is the first necessary step for application for a range of postgraduate teacher education programmes in primary, secondary and further education at Maynooth. Students who are interested in applying for a postgraduate teacher education programme through this route, must be conscious of the entry requirements – specifically in relation to Irish, Maths and English competencies.
Students can also progress to the Bachelor of Arts in Early Childhood (MH003, MH004).

The find out more about the programme, please click here.