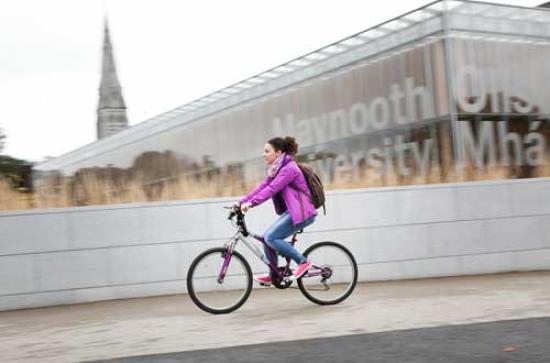 Monday, August 20, 2018 - 07:30
Strong demand for its undergraduate curriculum will result in a record number of first-year students on the Maynooth University campus this September. Following the University's share growth in first preference applications recorded earlier this year, more than 3,150 first year students are set to join the University this autumn.
In particular, Maynooth University has experienced continued growth in demand for courses in Science, Law, and Education. Responding to the increased demand for STEM subjects in secondary schools, this year the University will increase its intake of students studying to be science teachers.
A few years ago, Maynooth University implemented a new undergraduate curriculum, the first of its kind in the Irish higher education sector. Students have responded favourably, with demand continuing to rise for a programme that provides greater choice and flexibility within its degrees. The premise: the jobs of the future will require employees who are able to adapt and learn throughout their careers, so a university education should seek to equip today's students with intangible critical skills like analysis and communication, while exposing them to different disciplines and perspectives.
Maynooth University President, Professor Philip Nolan, said: "The Maynooth University undergraduate curriculum is widely seen to be the single most important development in undergraduate education in Ireland in recent decades. The emphasis on the fundamental skills of critical thinking and clear communication, unique subject combinations, added flexibility and choice, and the expansion of experiential learning, all are proving extremely attractive to students. Our curriculum has been designed with their future needs firmly in mind."
"I'm particularly delighted this year to see growth in many of our science courses, where world-class researchers bring their expertise into the classroom to inspire our students each and every day – and in our Law programmes, which are the fastest growing in Ireland."
With more than 12,000 students, including 2,200 research and Taught Master's students, and 1,700 students from 95 countries, Maynooth University is one of Ireland's fastest growing universities. It recently marked 21 years since its foundation as an independent institution, and earlier this year was recognised as one of the leading new universities in the world when Times Higher Education ranked it #80 in its 2018 Young University Rankings.