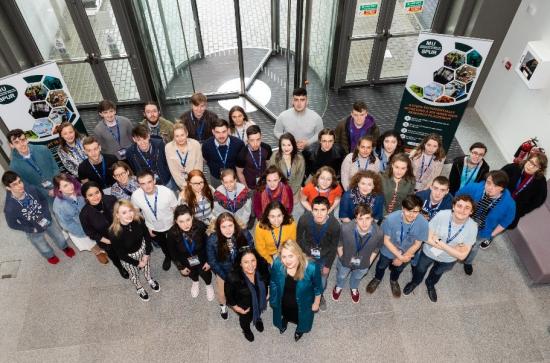 Monday, November 4, 2019 - 11:30
The Summer Programme for Undergraduate Research (SPUR) 2019 Poster Symposium took place on Wednesday, October 23rd as part of Research Week.

The Summer Programme for Undergraduate Research is an active research based and paid experiential learning programme for successful undergraduate students who wish to learn more about the postgraduate experience and possibly pursue a career in research. The Programme is held for six weeks during the summer, and affords students the opportunity to work closely with faculty mentors on research projects across a range of disciplines, offering an academically enriching environment and exposure to a myriad of learning and research opportunities, thereby enhancing students' confidence and discipline knowledge.

The programme culminates in the Undergraduate Research Symposium, which presents a forum for SPUR students from all faculties to showcase their research project posters and to discuss cutting edge research topics with their peers and the wider University community. A massive thank you to the 45 faculty mentors and 45 students that have been involved in this programme to date and to the Office of the Dean of Teaching and Learning who funds the programme.
SPUR 2020 will reopen for faculty staff applications in early January. For further details on SPUR and the additional programmes the Experiential Learning Office delivers, please go to https://www.maynoothuniversity.ie/experiential-learning/research

The faculty winners for 2019 who will have the opportunity to represent Maymooth University at the British Conference for Undergraduate Research are as follows:
Faculty of Science and Engineering – Clara Evans
Clara Evans is a Chemistry Department winner, mentored by Denise Rooney. Clara's poster showcased her research into Developing Novel Silver-Based Therapeutics.
Faculty of Social Sciences – Caroline Morrin
Caroline's winning research poster, within the Sociology department, involved an analysis on why some people remain resilient to social inequalities over time. Caroline undertook this project under the mentorship of Dr Delma Byrne.

Joint Winners in the Faculty of Arts, Celtic Studies and Philosophy – Elizabeth McKeague and Margaret Keogh
Under the mentorship of Dr Brian McKenzie and Dr Denis Casey, Elizabeth and Margaret's posters showcased their research into the Impact of Commuting on the Student Experience