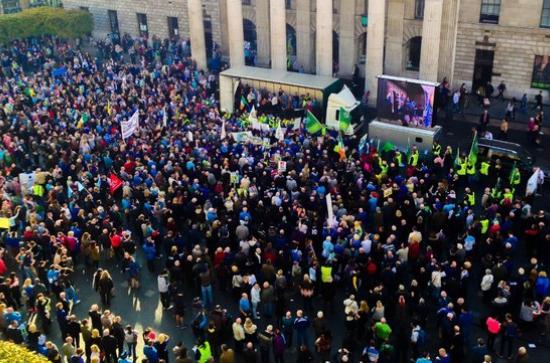 Tuesday, April 21, 2015 - 00:00
New research conducted by Dr Rory Hearne of the Maynooth University Department of Geography has found that the recent water protests were motivated by a range of factors, aside from water charges.
The research is contained in a report being launched today titled, "The Irish water war, austerity and the 'Risen people': An analysis of participant opinions, social and political impacts and transformative potential of the Irish anti water-charges movement." The report, detailing feedback from 2,556 water protestors, found that the impact of austerity was the most cited reason for protesting, with protestors communicating a desire for the complete abolition of water charges.
Some of the report findings:
New form of citizens' action and empowerment - A majority of respondents (54%) stated they had not participated in any previous protest. Respondents said they felt the water protests have been successful because it "is a genuinely grassroots and local movement and has mobilised every village, town and city of this country" and "rallied Irish people from all walks of life." The respondents explained that, in their view, they have the power to stop the implementation of the water charges through large-scale protest, non-payment and protest at water meter installations.
Media portrayal - A majority of respondents described the media portrayal of the anti-water movement as either 'undermining the campaign' (46%) or 'unfair' (41%). A majority (83%) of people were most informed about the campaign from social media, while only 6% of respondents relied on traditional media outlets.
Desire for new political party and dramatic political change in Ireland – Approximately 45% said they voted for the main large parties (FF/FG/Labour) in 2011 but indicated they will change their vote to the opposition Left parties and independents in the forthcoming election. Meanwhile, 32% said they will vote for PBP/AAA; 27% for Left Independents; 24% for Sinn Fein; and 6% for 'Right' Independents. Seventy-seven percent of respondents said they believed the most effective way of achieving change was through protest, while only 28% saw contacting a political representative as effective. Despite the strong support for 'Left' parties, a large proportion (79%) want to see a new political party formed, identifying that the issues the new party should stand on include anti-austerity, anti-corruption, anti-cronyism, radical political reform and democracy.
Dr Rory Hearne says the outcomes of the survey raise a number of interesting findings and reflections for understanding the Irish anti-water charges movement and its impact on the changing nature of Irish politics and democracy. "The research suggests that the water movement represents a new form of 'people-empowered' politics. Interestingly, respondents also made reference to the failure of the main political parties to live up to the 'ideals of the Republic.' What is clear from this ground-breaking study is that the water protests have catalysed a process of empowering significant numbers of Irish people who had not been involved in protest or anti-establishment politics before, something which is likely to have a big impact on Irish politics in coming years."
The independent research was led by Dr Rory Hearne, with the involvement of students in Maynooth University's MA in Human Geography programme, using on-line and social media to engage with participants from the protest movement between December 7- 14th, 2014, with survey respondents representing diverse geographical and occupational backgrounds.

Photo credit: www.rte.ie