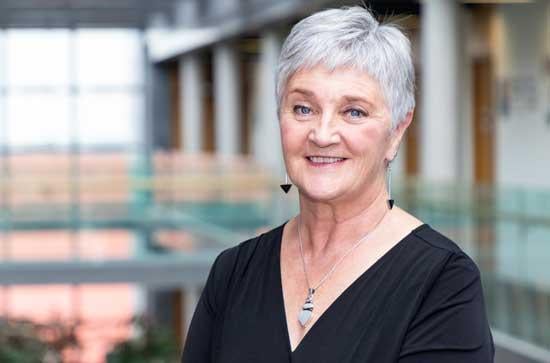 Friday, April 5, 2019 - 10:45
Maynooth University congratulates Dr Mary Murphy on her appointment by President Michael D Higgins to the Council of State.
Dr Murphy is among seven new appointees to the Council of State who will be advising the President on a range of matters, such as whether to refer a Bill to the Supreme Court.
She will be joining former Taoisigh, former presidents Mary Robinson and Mary McAleese, as well as the Chief Justice Mr Frank Clarke and the Attorney-General Séamus Woulfe SC.
A senior lecturer in Irish Politics and Society in the Maynooth University Department of Sociology, Dr Murphy co-ordinates the BA in Politics and Active Citizenship. Her research interests include public policy, labour markets and social security, power and civil society and gender.
Dr Murphy said: "I am very honoured to be entrusted with this role and to be included among the seven nominees of President Michael D Higgins and I particularly welcome the commitment to equality, diversity and inclusion which underpinned his selection of nominees. I very much look forward to the work of the Council of State over the next years."
A key contributor to national debate on social policy, Dr Murphy was a member of the Irish Human Rights and Equality Commission 2013-2017 and a member of the National Expert Advisory group on Taxation and Social Welfare 2011-2014.
President of Maynooth University, Prof Philip Nolan, said: "I'm delighted to congratulate Dr Murphy on her appointment to the Council of State. Dr Murphy has been a leading voice for social justice and equality throughout her career. As a leading advocate, teacher and researcher, she will bring significant expertise to the Council of State in her new role."

Gabhann Ollscoil Mhá Nuad comhghairdeas leis an Dr Mary Murphy tar éis di bheith ceaptha ag an Uachtarán Micheál D Ó hUiginn ar an gComhairle Stáit

De hAoine 4 Mí Aibreáin – Gabhann Ollscoil Mhá Nuad comhghairdeas leis an Dr Mary Murphy tar éis di bheith ceaptha ag an Uachtarán Micheál D Ó hUiginn ar an gComhairle Stáit.
Is í an Dr Murphy duine den seachtar atá nua-cheaptha don Chomhairle Stáit ar mhaithe le comhairle a chur ar an Uachtarán ar réimse d'abhair, an ceart Bille a chur faoi bhráid na Cúirte Uachtaraí ina measc.
Ar an gComhairle leí beidh iarThaoisigh, na hiarUachtaráin Máire Mhic Róibín agus Máire Mhic Ghiolla Íosa, chomh maith leis an bPríomh-Bhreitheamh Frank Clarke agus leis an Ard-Aighne Séamus Woulfe AS.
I mbun léachtóireachta ar bhonn sinsearach ar Pholaitíocht agus Sochaí na hÉireann i Roinn Socheolaíochta Ollscoil Mhá Nuad, is comhordaitheoir í an Dr Murphy ar an BA sa Pholaitíocht agus Saoránacht Ghníomhach. I measc a suimeanna taighde, tá beartas poiblí, margaí fostaíochta agus slándail shóisialta, cumhacht agus sochaí shibhialta agus inscne.
Dúirt an Dr Murphy: "Is onóir dom go bhfuil an mhuinín seo tar éis bheith léirithe ionam agus go bhfuilim mar dhuine den seachtar ainmnithe ag an Uachtarán Micheál D Ó hUiginn agus cuirim fíorchaoin fáilte roimh an tiomantas don chomhionannas, don éagsúlacht agus don ionchuimsitheacht ina bhfuil rogha na n-ainmnithe fréamhaithe. Táim ag súil go mór le bheith ag obair ar an gComhairle Stáit sna blianta amach romhainn."
Rannpháirteach ach go háirithe sa díospóireacht náisiúnta ar bheartas sóisialta, bhí an Dr Murphy mar bhall de Choimisiún na hÉireann um Chearta an Duine agus Comhionannas 2013 – 2017 agus mar bhall den Sainghrúpa Comhairleach Náisiúnta ar Cháin agus Leas Sóisialta 2011 – 2014.
Dúirt Uachtarán Ollscoil Mhá Nuad, an tOllamh Pilib Ó Nualláin: "Tá ríméad orm comhghairdeas a ghabháil leis an Dr Murphy as a ceapachán ar an gComhairle Stáit. Is príomhghlór ar cheartas sóisialta agus ar chomhionannas í an Dr Murphy ó thosaigh a saol gairmiúil. Mar phléadálaí, mar mhúinteoir agus mar thaighdeoir den chéad scoth, tabharfaidh sí fuíollach saineolais leí go dtí a ról nua ar an gComhairle Stáit."