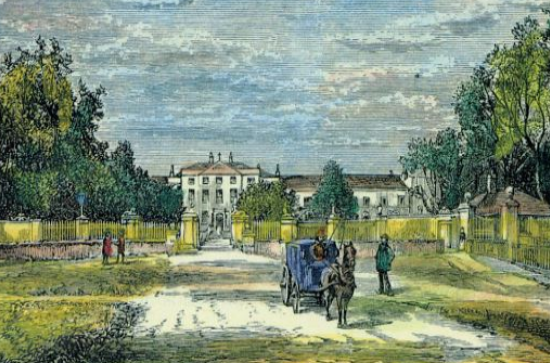 Monday, February 13, 2023 - 19:00
to
Monday, March 27, 2023 - 19:00
Maynooth University Library
Department of History in collaboration with Department of Adult Education, Maynooth University Library, and St Patrick's College Maynooth presents ComMUniversity Lecture Series
Maynooth Through the Ages: Aspects of Town and University History
This event is free to the public. Booking is essential via the links below.

Programme:
13 February 2023
19:00 Welcome, Professor Terence Dooley, Head of Department of History, Elaine Bean, Maynooth University Library

19:10 Introducing the ComMUniversity Lecture Series, Dr Derek Barter

19:30 'Maynooth from earliest times to c. 1600', Dr Michael Potterton
Chair: Alexandra Caccamo
Maynooth from earliest times to c. 1600, Dr Michael Potterton
This illustrated lecture will take participants on a virtual tour of Maynooth from its earliest human settlement to the end of the Middle Ages. The place-name 'Maynooth' derives from Mag Nuadat, the plain of Nuadha, a legendary Leinster figure. There is evidence for prehistoric activity in the area before several early churches were established in this border territory between the north of Leinster and the ancient kingdom of Meath. When the Anglo-Normans arrived in Ireland, Strongbow (the earl of Pembroke) granted north-eastern Kildare to Maurice FitzGerald, who built a castle at a strategic location at the confluence of two streams. The castle provided shelter for a growing settlement and soon there was a weekly market and an annual fair. Grain from the hinterland was ground at a watermill on the River Lyreen. There was a library and a chapel in the castle and Laraghbryan functioned as the parish church.
In 1316 the FitzGeralds became earls of Kildare and they rose to become the most important family in Ireland by the sixteenth century – the 'Great Earl' (Garret Mór) and his son (Garret Óg) both served long periods as king's lord deputy in Ireland. Maynooth was a key site and its castle was crucial to the defence of the beleaguered English colony centred 25km away at Dublin. A college was founded in 1518 but the Dissolution and the failed rebellion of Silken Thomas dealt a double blow to Maynooth in the 1530s and 40s.
Dr Derek Barter is the Continuing Education Co-Ordinator in the Dept. of Adult and Community Education (DACE) Maynooth University and Director of the Communiversity. Returning to education as a mature student Derek completed his PhD in History in 2009 while he was working as an Adult Educator for the CDETB in Dublin's inner city. It was here that he became interested in Community Engagement, Widening Participation and Access. He established the ComMUniversity in 2012 and has been bringing academics out to local communities and libraries in the Leinster area since that time to engage people in subjects such as Local History, Politics, Economics, Philosophy, Criminology to name but a few. Click to find out more about the ComMUniversity
Dr Michael Potterton is a lecturer in the Department of History at Maynooth University. His core field of research is the history and archaeology of medieval Ireland, with special reference to landscape and settlement – urban, rural and hinterlands. He has established an international reputation as an innovative researcher, a dynamic teacher and an accomplished writer and editor. He has published thirteen books (as author, co-author or co-editor)
Alexandra Caccamo is the Special Collections Librarian at Maynooth University. She is responsible for overseeing the collections in the historic Russell Library, St. Patrick's College Maynooth and the special collections and archives of Maynooth University.
'Building Maynooth 1700-1900: some key features in the making of the village and the creation of a small town' Prof Arnold Horner
Chair: Susan Durack
This talk will explore how Maynooth was transformed and subsequently consolidated over a long period from the mid-eighteenth century. A particular focus will be the changing lay-out and appearance of the Main Street area and its immediate vicinity. A series of maps, some of them created for the landlord proprietor, the earl of Kildare (later duke of Leinster) helps document the extent to which Maynooth changed. In the early 1700s, much of Maynooth, formerly a medieval stronghold, was run-down and ruined. However, from the 1750s, the village was greatly re-developed along a new Main Street. The establishment of the college in 1795, together with proximity to the great estate at Carton, helped sustain the village in later decades. This is a talk that offers an insight to the origins and heritage aspects of the present-day Main Street area.
Dr Arnold Horner formerly taught Geography at University College Dublin. He contributed two chapters on the development of Maynooth to Terence Dooley (et al), Aspects of Irish aristocratic life: essays on the FitzGerald's and Carton House (Dublin, 2014). He has also contributed a history of Maynooth to the Irish Historic Towns Atlas series being produced by the Royal Irish Academy. Specialising in the geography of Ireland and in the history of mapping in Ireland, he has written three books Mapping Offaly in the early nineteenth century (2005), Mapping Meath in the early nineteenth century (2006) and Mapping Sligo in the early nineteenth century (2011).
Susan Durack MA is Senior Library Assistant, Special Collections and Archives, Maynooth University.
'Carton House: a brief history from c.1730 to the present', Prof Terence Dooley
'Maynooth treasures: the Russell Library, its collections, and beyond', Susan Durack
Chair: Cathal McCauley
'Carton House: a brief history from c.1730 to the present', Prof Terence Dooley
For almost 800 years, from their arrival with the first wave of Anglo-Normans in 1169, the FitzGeralds, earls of Kildare, marquesses of Kildares, and, from 1766, dukes of Leinster, were the pre-eminent noble family living in Ireland, dominating the social, political, economic, and cultural landscapes. In 1729, they built their Palladian mansion at Carton, a monument to their status which came to house magnificent collections of art, silver, and furnishings, while outside the demesne was designed as one of the finest examples of eighteenth-century landscape in Ireland. But 200 years and seven generations later all had changed utterly. Indebtedness and profligacy, untimely deaths and family misfortune allied to the revolutionary social and political changes that swept Ireland from the late nineteenth century meant that by the early 1920s the FitzGeralds had lost – quite literally as a gamble – the house and all its appurtenances. This talk provides an overview of the reasons for this calamitous fall.
Terence Dooley is Head of Department of History, Professor of History, and Director of the Centre for the Study of Historic Irish houses and Estates. He is the author of many books including The decline and fall of the dukes of Leinster, 1872-1948: love, war, debt and madness (Dublin, 2014) and Burning the Big House: the story of the Irish country house in a time of war and revolution.
'Maynooth treasures: the Russell Library, its collections, and beyond', Susan Durack
Located in the Pugin-designed St. Mary's quadrangle of St Patrick's College, Maynooth, the Russell Library houses important and significant collections. This talk will give a brief overview of the history of the library and its special collections, focusing on selected items. It will also reference the on-going development of special collections and archives held in the John Paul II Library, which are of great importance to researchers.
Susan Durack MA is Senior Library Assistant, Special Collections and Archives, Maynooth University.
Cathal McCauley is University Librarian at Maynooth University (MU), Ireland. He previously worked in a number of roles in University College Dublin (UCD) Library. Prior to joining UCD, he worked for FGS (now Grant Thornton) as Director of Consulting. In 2016 he led the move of the IReL initiative to MU and he was the founding Director of the Irish University Libraries Collaboration Centre at MU - a shared services centre that provides electronic resources and ORCID consortium support to the Irish third level sector.
Cathal is President and a Council Member of the Library Association of Ireland, a member, and former Chair, of the Irish Universities Association Librarians' Group and Treasurer of the Consortium of National and University Libraries in Ireland. Cathal is a member, and information coordinator, of IFLA's Library Building and Equipment Section. He is co-chair of the Irish IFLA World Library and Information Congress (WLIC) National Committee responsible for bringing the WLIC and almost 2,000 delegates from 110+ countries to Dublin in 2022. In 2020 he worked with colleagues to draft a call for action on the electronic content crisis that was subsequently endorsed by all Irish library sectors and became the basis of the Irish involvement in the #ebookSOS campaign. He is a regular speaker nationally and internationally on a range of library-related issues including open access, library design and change management.
'The revolutionary life of Lord Edward FitzGerald, 1763–1798', Dr Liam Chambers
Chair: Prof Marian Lyons
Lord Edward FitzGerald was born in 1763, the twelfth child of the most senior peer in Ireland, James, duke of Leinster, and his wife Emily, daughter of a leading English aristocrat, Charles Lennox, the second duke of Richmond. Lord Edward's early career followed the kind of path typically pursued by an aristocratic younger son: the military profession coupled with an Irish parliamentary seat on the family interest. In the 1780s, FitzGerald saw action during the American War of Independence, but as the decade wore on he became increasingly disillusioned with his military career. When the French Revolution broke out in 1789, FitzGerald embraced it with enthusiasm. Unlike those who quietly shed their revolutionary zeal as the full implications of events in France revealed themselves in the early 1790s, FitzGerald's support for the revolution only grew. He witnessed the Terror at first-hand and was soon identified as a leading Irish radical. He finally joined the Society of United Irishmen later in the 1790s and played a pivotal role in organising the 1798 rebellion. Lord Edward was arrested only a few days before the rebellion broke out and died of wounds inflicted during his capture, on 4 June 1798. He was only thirty-four years old when he died. In the nineteenth century, Lord Edward was presented as a Romantic figure, who stumbled into revolution almost by accident. In reality, Lord Edward was a convinced radical. This lecture re-examines Lord Edward's revolutionary life 225 years after his death.
Dr Liam Chambers is senior lecturer and Head of the Department of History at Mary Immaculate College Limerick. His research interests include eighteenth-century Irish history; Irish migration to early modern Europe; history of Catholicism; Irish students, and clergy and colleges in early modern Paris. His books include Rebellion in Kildare 1790-1803 (Dublin, 1998).
Prof Marian Lyons is Professor of History at Maynooth University. She has published on Franco-Irish relations and Irish migrants in Europe during the early modern period, and on various aspects of Irish history including religion in the late medieval and early modern eras, the House of Kildare, and the emergence of professional medicine from the early 1600s onwards. She is a Trustee of the Catholic Historical Society of Ireland and of the Jacobite Studies Trust, and a member of the Irish Manuscripts Commission.
'A tour of Maynooth College Chapel', Dr John-Paul Sheridan
Chair: Rev Prof Michael Mullaney
Meet at entrance of South Campus
At the centre of the life of any seminary is its chapel. The college chapel in St Patrick's College is the apotheosis of nineteenth-century ecclesiastical design, combining the tenets of neo-Gothic revivalist architecture and the devotional style which became common in Irish church decoration in the nineteenth and early twentieth century. The chapel is 68 metres long, 12 metres wides and 21 metres high.
This talk will be in two parts. To begin there is the story of the chapel's construction and decoration in the neo-Gothic style. The second part is an explanation of the chapel's iconography, and how the interior was influenced not only by conventional ecclesiastical design, but also by the assistance of the college's academic community from that time.
Two architects were responsible – J.J. McCarthy was the architect who gave the imposing neo-Gothic building and William Hague, who won the contract for the design of the interior. It is Hague's interior decoration as well as McCarthy's spacious design that helps make this the architectural jewel we see today. This is greatly assisted by the considerable work of restoration and lighting design which was undertaken prior to the college's bicentennial in 1995. All this combines to leave such a lasting impression on all who visit the chapel today.
Dr John-Paul Sheridan is a priest of the Diocese of Ferns and was ordained in 1990. He joined the staff at Maynooth in 2014 as Education Programmes Coordinator. He lectures in the areas of Religious Education, Theology and Liturgy. Following a request from a colleague to show some visitors around the college chapel, he went away to learn a few facts about it. He has been learning ever since. He has given numerous talks and tours of the chapel. He was joint editor (with Professor Salvador Ryan) of the recent publication, We remember Maynooth: a college across four centuries (Dublin, 2020).
Rev Prof Michael Mullaney is a priest of the Archdiocese of Cashel and Emly, the President of St Patrick's College, Maynooth, and Professor of Canon Law at St Patrick's Pontifical University.
Since 2019, he has also been the President of the European Federation of Catholic Universities (FUCE). He serves as a Judge of the National Marriage Appeals Tribunal of Ireland and as a canonical advisor to the National Case Management Reference Group (NCMRG) attached to the Catholic Church's Safeguarding Office.
At weekends, Fr. Michael serves as a parish chaplain in the parish of Holycross-Ballycahill, Tipperary
'Women in the "new" Maynooth: the early years', Prof R.V. Comerford
Dr Jennifer Redmond in conversation with Dr Mary Cullen
Chair: Dr Angela Feeney
Before 1966 the core female presence in the College was the small community of sisters located in the Senior Infirmary. Labouring, maintenance, and housekeeping work was done preponderantly by men. The kitchen was staffed by men, although one of the sisters from the infirmary was at least nominally in charge there.
To retain financial and academic viability, Maynooth needed more students. Women religious were an obvious group from which to recruit. In anticipation of the 1966 decision to admit 'externals', female congregations were canvassed systematically. The response was very positive and initial expectations were that the 'new' Maynooth would have nuns as a large proportion of its student population. In the event, large numbers of sisters did become students, but in a matter of years lay students came to predominate.
Accommodating the enclosed regime of a seminary to the demands of the new population of students and staff posed many challenges that impinged on issues of ethos, access, and societal norms. The working out of these over a period of a decade and more is an intriguing story.
The purpose of this paper is to look at the roles of women in that story, from gaining anxious permission for camogie in the List field (provided only players were present!) in the late 1960s, to the opening of the creche and the contribution of female staff to women's rights activism in the late 1970s.
Prof R.V. Comerford was Professor of Modern History and Head of Department at Maynooth, 1989-2010. He is the author of Ireland (London and New York, 2003) [in series 'Inventing the nation']; The fenians in context: Irish politics and society, 1848-82 (Dublin and New Jersey, 1985; 2nd ed., 1998); C.J. Kickham: a study in Irish nationalism and Irish literature (Dublin, 1979); while his contributions to New history of Ireland include Introduction and primary narrative for 1870-91 in vol. 6, ed. by W.E. Vaughan (Oxford, 1996), and primary narrative for 1850-70 in vol. 5, ed. by W.E. Vaughan (Oxford, 1989).
Dr Jennifer Redmond is Assistant Professor in Twentieth-Century Irish History in the Department of History at Maynooth University. She is on the executive committee of the Irish Historical Society and sits on the Editorial Boards for Women's History Review and the Documents in Irish Foreign Policy series. Her publications include Moving Histories: Irish Women's Migration to Britain, from Independence to Republic (Liverpool University Press, 2018) which was longlisted for the Michel Deon prize. Jennifer is a specialist in modern Irish social history with a focus on gender, women and migration.

Dr Mary Cullen was the first female member of the academic staff at St Patrick's College Maynooth (later NUI Maynooth) and taught for three decades there. She was the first president of the Women's History Association of Ireland which she helped to found in 1989, an all-island professional association for scholars in women's history that is still thriving today. The WHAI initiated an essay prize in honour of Mary and her co-founder Dr Margaret MacCurtain which has been awarded over the last decade. Mary was a visiting lecturer at Trinity College Dublin where she taught women's history for many years as part of the Centre for Gender and Women's Studies, inspiring further generations of students. Her writings over many decades were collected in the book Telling it our way. Essays in gender history published by Arlen House in 2013. Mary was also a contributor to the Field Day anthology of Irish women's writing. In her interview with Dr Jennifer Redmond, Mary will reminisce on her academic career, her role as a pioneer in the field of women's and gender history in Ireland and internationally.
Dr. Angela Feeney is a proud graduate of Maynooth University; having been awarded the President's entrance scholarship to Maynooth University, she completed a BA in French and Gaeilge, a H.Dip.Ed., a Masters in French and a PhD in Education at the University. A former Head of School of Languages, Law and Social Science in TU Dublin and previously a lecturer in French, Angela has spent most of her professional life working in higher education and was awarded Chevalier des Palmes Acacémiques status by the French government for her work in fostering collaborations between Ireland and France. Angela has acted as a national assessor on Canada-EU joint consortia and as a national representative on the Digital Online Training and QualiTraining projects for the European Commission. Her research interests include Translation Studies, French-Canadian literature and student engagement. Currently, Angela is an elected public representative and serves as a Labour Councillor on Kildare County Council.