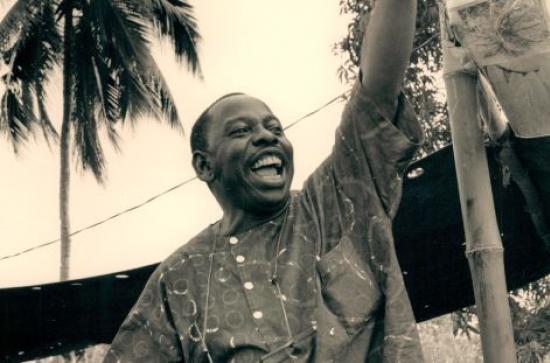 Tuesday, November 14, 2017 -

14:00

to

16:00
Flexible Learning Room, John Paul II Library
Ken Saro-Wiwa Anniversary Seminar
On Tuesday 14 November, Maynooth University Library will host a seminar, from 14:00 to 16:00, to mark the 22nd anniversary of the execution of Ken Saro-Wiwa and his eight colleagues (The Ogoni 9). The Seminar will be followed by the launch of the e-book Silence Would be Treason: Last Writings of Ken Saro-Wiwa.
Programme
14:00 Keynote Speaker: Mark Dummett*, Amnesty International: Amnesty International's research on the role played by Shell in the human rights violations carried out by the Nigerian military in response to protests by the Ogoni people in the 1990s.
14:45 Q & A
15:00 Fr Samuel Udogbo (PhD researcher in Sociology): Working with MOSOP Youth in Ogoni
15:15 Graham Kay (Ken Saro-Wiwa fellow, Department of History): Researching the geopolitics of oil
15:30 Discussion
16:00 Refreshments and Launch, by Sister Majella McCarron, of the free e-book Silence Would be Treason: Last Writings of Ken Saro-Wiwa (2nd edition; edited by Íde Corley, Helen Fallon & Laurence Cox)
There is no charge for attending, however booking is essential. To book, please e-mail library.bookings@mu.ie or telephone 01-7086445 by Friday 3 November.
There are optional visits to view a selection of key documents from the Ken Saro-Wiwa Archive at 13:00 & 13:30. Tours will start from the Admission Desk in the Library. No booking needed.
Learn more about Ken Saro-Wiwa here.
Paid Parking is in operation on campus.
*Mark Dummett is Business and Human Rights researcher at Amnesty International, based in London. He has investigated human rights violations linked to business activities in Nigeria, the Democratic Republic of Congo, Myanmar and Bangladesh. On Nigeria, Mark and his colleagues have focussed on two areas: the failure of oil companies, including the UK-Dutch multinational Shell, to prevent and adequately clean up oil spills that destroy the environment of the Niger Delta; and secondly, the role that Shell played in the 1990's during the military crackdown on protests in Ogoni. Before joining Amnesty, Mark worked as a correspondent for the BBC. Mark appears on this video about events in Ogoni and the case being brought in the Netherlands by the widows of four of the Ogoni 9.