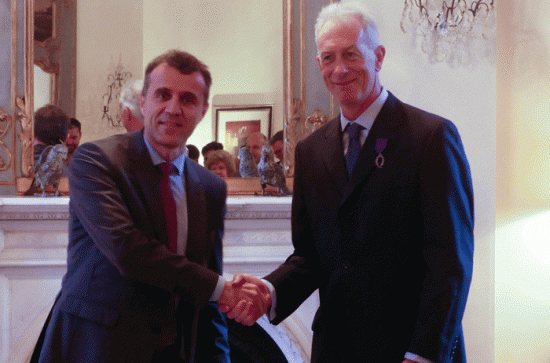 Wednesday, October 4, 2017 - 10:30
Professor John Ringwood from the Department of Electronic Engineering has been awarded France's Chevalier des Palmes Académiques, one of the highest accolades the country bestows on academics and researchers.
Professor Ringwood was named as Chevalier de l'Ordre des Palmes Académiques by the Ambassador of France to Ireland, Stéphane Crouzat, during a ceremony at the Residence of France in Dublin last night.
Professor Ringwood's research is focussed on the development and application of modelling and control systems techniques, with a particular emphasis on wave energy. His research explores finding the perfect shape for a wave energy device and forecasting on-coming waves to allow the device to maximise the energy take-off from the wave.
His commitment and dedication to the training of researchers has extended to France, as many French PhD and postdoctoral students and interns have benefited from his knowledge and mentoring. Professor Ringwood has been recognised by his peers as one of the best academics in the area of marine energies, and as a key pillar of French-Irish scientific and academic cooperation at its highest level.
The Ordre des Palmes Académiques was created by Napoléon Bonaparte and is one of France's oldest awards, recognising achievements in the fields of education and learning.
After studying in Dublin Institute of Technology, Professor Ringwood graduated from Strathclyde University with a PhD in 1985 and subsequently lectured at the School of Electronic Engineering in Dublin City University. He became Professor and Head of the Department of Electronic Engineering of Maynooth University in 2000.