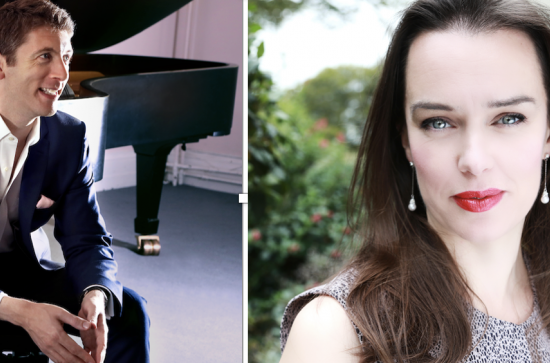 Friday, May 14, 2021 - 15:00
The Music Department, in collaboration with St. Patrick's College, the Dean of the Faculty of Arts, Celtic Studies and Philosophy, Kildare County Council, and Music Generation Kildare, is delighted to present Sharon Carthy and Finghin Collins performing a recital of songs for voice and piano, with music by G. Mahler, F. Schubert, C. V. Stanford, E. Elgar, H. Berlioz, J. Brahms, R. Schumann.
Please join us at the following link
https://www.youtube.com/watch?v=CAyJWgSO420
On Saturday 15th May at 17:00.
Sharon Carty, Mezzo-soprano
Irish mezzo-soprano Sharon Carty is a singer who has firmly established a reputation as a respected interpreter of both early and contemporary works, alongside maintaining a busy schedule in mainstream opera and concert repertoire. She is an alumna of the RIAM Dublin, MDW Vienna, and Oper Frankfurt Young Artist Programme, and is currently an Artistic Partner to Irish National Opera as well as a Creative Associate on the Irish Arts Council pilot "Creative Schools" scheme. Most recently, she was announced as "Maynooth Campus Associate Artist" for NUI Maynooth and the Pontifical University Maynooth for 2020/2021.
Regularly praised for her musicality and intelligence, her integrity as an artist and the warmth, clarity and agility of her voice, her opera repertoire includes many of the important lyric and coloratura mezzo-soprano roles, such as Hänsel, Dido, Ruggiero, Dorabella, Cherubino, Ariodante, Orfeo and Sesto. On the concert platform her repertoire spans most of the major sacred concert works, including all the principal works by J. S .Bach as well as Messiah, Mozart's Great Mass in C minor and a broad song repertoire in addition to numerous chamber music works. She is also a dedicated song recitalist, most recently appearing in performances with pianists Finghin Collins, Jonathan Ware and Graham Johnson. Career highlights to date include her London, Amsterdam and New York opera debuts with The Second Violinist at the Barbican Theatre, the Muziekgebouw in Amsterdam, and the Park Avenue Armory, her Wexford Festival Opera debut as Lucy Talbot in the European première of William Bolcom's Dinner at Eight, the title role in Irish National Opera's critically-acclaimed Orfeo ed Euridice and her debut at the Festival dei Due Mondi in Spoleto, Italy, where she premiered a new opera, Proserpine by Silvia Colasanti, to critical acclaim.
A regular collaborator with orchestras across Europe, her discography includes La Traviata on Naxos DVD with the NDR Radiophilharmonie alongside Thomas Hampson and Marina Rebeka as well as The Mountebanks (Gilbert/Cellier) on CD with the BBC Concert Orchestra. Her most recent CD, a disc of Schubert songs with pianist Jonathan Ware, was released in May 2020.
Finghin Collins, Pianist
One of Ireland's most successful musicians and significant musical ambassadors, Finghin Collins was born in Dublin in 1977 and, following initial lessons with his sister Mary, studied piano at the Royal Irish Academy of Music with John O'Conor and at the Geneva Conservatoire with Dominique Merlet. His international career was launched by winning first prize at the Clara Haskil International Piano Competition in Switzerland in 1999. He has performed in recital and with major orchestras throughout Europe and the United States, as well as in the Far East and Australia.
Engagements in 2020 included solo, chamber and concerto performances of Beethoven across Europe to mark the composer's 250th anniversary, as well as his début with the Russian National Orchestra in Moscow, although most of these engagements had to be cancelled or postponed due to the coronavirus pandemic. Since online activities resumed in Autumn 2020, Collins has performed throughout Ireland, in Galway, Kilkenny, Limerick, Dublin, Belfast, Wexford Festival Opera and Cork. He also had two very interesting collaborations with members of the Irish Baroque Orchestra, performing in the National Concert Hall Dublin and at Ardee Baroque Festival on a copy by Paul Poletti of a Walter fortepiano.
Finghin Collins also makes a significant contribution to the musical landscape of his native Ireland, where he resides. Since 2013, he has been Artistic Director of Music for Galway, which was tasked with presenting the major classical programme of Galway 2020, European Capital of Culture. The centrepiece of that programme, the cello festival Cellissimo, was delivered successfully online in March 2021. He is also the founding Artistic Director of the New Ross Piano Festival, which would have celebrated its 15th edition in 2020, as well as the founding co-Artistic
Director of the International Master Course at the National Concert Hall in Dublin. In October 2017, the National University of Ireland conferred on him an honorary Degree of Doctor of Music.
Find out more at www.finghincollins.com
Dr Antonio Cascelli
Assistant Professor in Music
Head of Music Department
Antonio Cascelli/Denis Condon (editors) Experiencing Music and Visual Culture. Threshold, Intermediality, Synchresis, Routledge, 2021
Associate Editor - Chigiana. Journal of Musicological Studieshttps://journal.chigiana.org
Maynooth University
+353 (0)1 708 3733