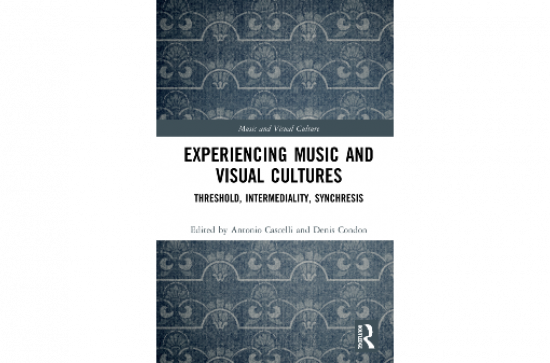 Saturday, November 13, 2021 - 12:30
The book Experiencing Music and Visual Cultures. Threshold, Intermediality, Synchresis, ed. Antonio Cascelli and Denis Condon, published by Routledge earlier this year, will be launched online and in-person at Maynooth University Music Department on Wednesday 17 November at 4:00pm (Irish Time/GMT). The work originated in the Music and Visual Cultures International Conference, held in Maynooth University in July 2016. Along with two keynote speakers, Prof Alessandra Campana (Tufts) and Prof Giovanni Careri (EHESS, Paris), it drew a programme of 65 individual papers given by musicologists, art historians, and specialists in new media, film, opera, and cultural studies. Fifteen presentations (including both keynotes) were selected from this conference for inclusion as chapters in this new book.
Bringing the research of musicologists, art historians, and film studies scholars into dialogue, this book explores the relationships between visual art forms and music. The chapters are organized around three core concepts – threshold, intermediality, and synchresis – which offer ways of understanding and discussing the interplay between the arts of sounds and images. Refuting the idea that music and visual art forms only operate in parallel, the contributors instead consider how the arts of sound and vision are entwined across a wide array of materials, genres, and time periods. Contributors delve into a rich variety of topics, ranging from the art of Renaissance Italy to the politics of opera in contemporary Los Angeles to the popular television series Breaking Bad. Placing these chapters in conversation, this volume develops a shared language for cross-disciplinary inquiry into arts that blend music and visual components, integrates insights from film studies with the conversation between musicology and art history, and moves the study of music and visual culture forward.
With chapters by three Music Department staff members (Dr Cascelli, Dr Michael Lee, and Dr Francesca Placanica), this book will be co-presented by the editors at the Department Research Seminar in the Bewerunge Room, Logic House, on Wednesday 17 November at 4:00pm. Chaired by Dr Laura Watson, the panel will be joined by Dr John O'Flynn (Dublin City University) as discussant. Staff and students of the University are welcome to attend the presentation in person, which will also be live-streamed via Zoom.
Further details of the book can be found here: https://www.routledge.com/9780367188047