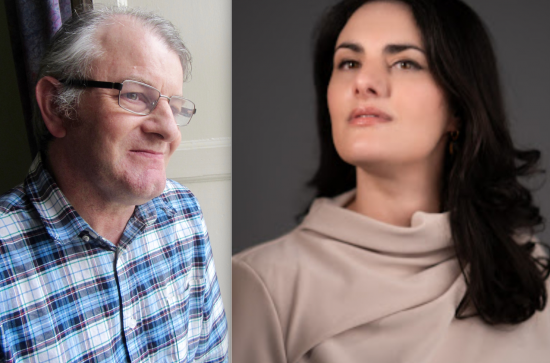 Thursday, October 19, 2023 - 13:00
Riverstown Hall
Gina Oberoi – Engela (mezzo soprano) & Martin O'Leary (piano)

Programme:
Gustav Mahler (1860-1911):
Lieder eines Fahrenden Gesellen (1884)
Wenn mein Schatz hochzeit mach
Ging heut' Morgen über's Feld
Ich hab' ein glühend Messer
Die zwei blauen Augen
Martin O'Leary (1963 -):
Shades of Blue for solo piano (2022-3) (First performance)
Mahlergesang (2022)

Today's programme features two composers. Mahler's music is one of the main reasons I am a composer. His music has been a touchstone and influence on me since my teenage years. His 'Lieder eines Fahrenden Gesellen' were written in the aftermath of an unhappy love affair and set his own poems. My own 'Mahlergesang' sets another poem by Mahler which was probably intended for inclusion in the song cycle. It was expressly written for today's performer. In between these is the first performance of my piano piece 'Shades of Blue' which is part of an ongoing series of 12 pieces, each of which focuses on one of the twelve pitches of the chromatic scale. 'Shades of Blue' is a blues influenced piece (alternating slow and fast sections) centered around G.

Gina Oberoi-Engela (mezzo soprano)
Award winning Mezzo Soprano Gina Oberoi has extensive experience in Opera, Oratorio and concert platforms in both Ireland and abroad. She has performed in Germany, Italy, Romania, France Japan and the Czech Republic.
In Ireland she has performed at the Waterfront Concert Hall in Belfast and multiple performances with the RTE Concert Orchestra at the National Concert Hall and major concert venues in Dublin. She has also performed on RTE Lyric FM.
In September 2018 Gina sang the role of Jackie Kennedy in the Bord Gais show "Callas". Gina was also invited to perform at the launch of the 2017 and 2018 Bealtaine Festival in Ireland. Following this, she subsequently gave a series of recitals as part of the festival. Gina was the soloist at the one hundredth year anniversary concert given by the Irish Embassy in Bucharest to commemorate the 1916 Rising.
Gina has performed many sacred works in both Ireland and Europe with prominent choral societies, including Handel's Messiah, Handel's Israel in Egypt, Handel's Dixit Dominus, Mozart's Requiem, Mozart's Vesperae Solennes de Confessore, Forrest's Jubilate Deo and Durufle's Requiem. In March 2019, Gina took part in the first performance of Martin O'Leary's 'Psalmus Invitatorius', written to mark the 50th anniversary of the Maynooth Choral Society.
Gina is also delighted to be a returning to Cork Opera to sing the role of "Dritte Dame" in Mozarts Die Zauberflöte. Previous roles with Cork Opera include "Kate" in Gilbert and Sullivan's The Pirates of Penzance, and "second bridesmaid " in Mozarts Le Nozze Di Figaro.
Gina is also a regular artist with Limerick Opera Festival, where she has worked on a variety of projects and concerts.
Opera repertoire includes "Flora" from Verdi's La Traviata, "Azucena" from Verdi's Il Trovatore, "Sesto" from Mozart's La Clemenza Di Tito, "Idomeneo" from Mozart's Idomeneo, "Oktavian" from Strauss' Der Rosenkavalier, "Jean" from Tchaikovsky's The Maid of Orleans, and "Sara" from Donizetti's Roberto Devereux.
Gina received honours in her Bachelor's and Master's degrees in Music from the DIT Conservatory of Music and Drama (now TU Dublin). She received coaching at the Bayrische Staatsoper Munich and the National Opera Studio London.
Martin O'Leary
Martin O'Leary was born in Dublin. From 1981 to 1985 he read music at Trinity College, Dublin, and successfully completed an M. Litt in composition there in 1988, the only person to hold this distinction. He successfully completed a Ph. D at the same college, a study of some of the works of English composer Havergal Brian in 2004. Since 1991 he has been lecturing at Maynooth University, where he became a full-time member of staff in the Music Department in 1993. He has also been a director of the Irish Composition Summer School since 1992.
Martin is a composer, pianist and guitarist. He has written over a hundred works for varied forces including 'Psalmus Invitatorius' (2018-19), for 5 soloists, three choral groups, organ and orchestra, commissioned for the 50th anniversary of the Maynooth University Choral Society, a Piano Concerto (1987-90), recorded and broadcast by Philip Martin with the National Symphony Orchestra under Albert Rosen. He has written many vocal works including 'Lúireach Phádraig'(2015) written for Maynooth Chamber Choir and performed in the U.S.A and China, and chamber works including 'Avanti' for piano trio, written for the Muzika Trio of Wisconsin (2013). As a pianist, Martin has a wide repertoire and has championed music by his fellow Irish composers for over 30 years. He has played their music in Israel, Japan and the U.S.A, as well as throughout Ireland, and has premièred works by John Buckley, Paul Hayes, Kevin O'Connell, John McLachlan and Ryan Molloy, in addition to his own music. He has also collaborated with uilleann piper Mick O'Brien, and was Musical Director for the original Irish musical 'Most Peculiar Dreams', written by Fergus Foran, and successfully performed in venues throughout Ireland, most recently in the Helix, Dublin in June of this year.