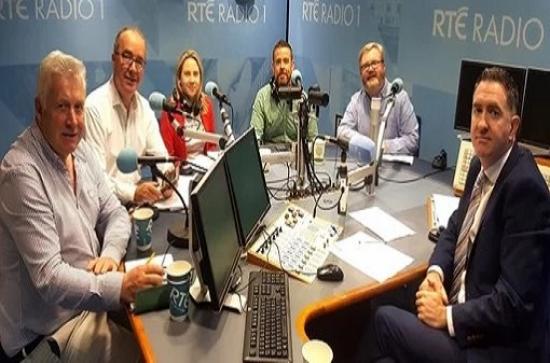 Tuesday, July 9, 2019 - 10:15
Maynooth University law lecturer Dr Fergus Ryan recently appeared on RTÉ Radio 1's Saturday with Cormac Ó hEadhra as part of a studio panel discussing Pride and LGBT+ rights in Ireland today. Fergus noted that "while Pride is a celebration, it's also a protest against inequality and prejudice". He observed that, while Ireland has seen great change in recent decades, lingering barriers to full equality remain, particularly for more marginalized sections of the LGBT+ community, such as younger and older people, people who are transgender, LGBT+ people in direct provision, and LGBT+ Travellers. The panel also discussed the Mercosur trade deal."
The full programme is available here: https://www.rte.ie/radio1/saturday/programmes/2019/0629/1059203-saturday-with-cormac-headhra-saturday-29-june-2019/?clipid=103146357#103146357
photo courtesy of RTÉ.