The Department of Law is located on the lower, first and second floors of New House on the South Campus.
Students are welcome to call to the Administration Office from 10.00am to 12.30pm and from 2.30pm to 4.30pm, Monday to Friday. Each lecturer keeps his/her own individual contact hours. Students can locate this information on Moodle or contact the lecturers directly by email.
Department Contact Details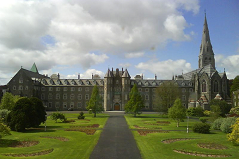 Department of Law
Administration Office
Room 302
New House
South Campus
Maynooth University
Co. Kildare
Tel: +353 (0)1 474 7265 / 7266 / 7118
Email:
law@mu.ie
Follow us on Twitter: @MaynoothLaw
​Follow us on Instagram @MaynoothLaw
Follow us on LinkedIn Department of Law

Individual contact details for each Department member can be accessed here.