The Department of Law is located on the lower, first and second floors of New House on the South Campus.
The Reception Administration Office is open at the following times:
Monday 9am – 4.30pm
Tuesday 9am – 4.30pm
Wednesday 9am – 12.30pm
Thursday 8.30am – 3.30pm
Friday - CLOSED
The admin team can still be reached at law@mu.ie during regular office hours, Monday to Friday.
Department Contact Details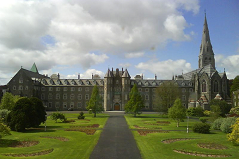 Department of Law
Administration Office
Room 47, Ground Floor
New House
South Campus
Maynooth University
Co. Kildare
Tel: +353 (0)1 474 7506
Follow us on Twitter: @MaynoothLaw
​Follow us on Instagram @MaynoothLaw
Follow us on LinkedIn Department of Law
​Each lecturer keeps his/her own individual contact hours. Students can locate this information on Moodle or contact the lecturers directly by email.
Individual contact details for each Department member can be accessed here.