Maynooth University organises the National Moot Court Competition 2023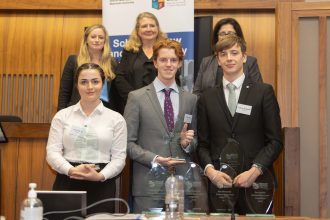 On 18 November Maynooth University's School of Law and Criminology organised the annual National Moot Court Competition 2023. This competition, which drew teams from across the island of Ireland and the UK, took place in the Criminal Courts of Justice in Dublin.
The competition involved 16 teams of mooters, 30 judges and more than 20 volunteer clerks and timekeepers. The final was held in front of a judging panel of Ms Justice Nuala Butler of the Court of Appeal, Helen Callanan SC and Paula Gibbs from A&L Goodbody LLP. At the final, teams from UCD and the University of Galway took on the fascinating but challenging moot problem question on privilege that was written for the competition by Conor Duff BL. The University of Galway was ultimately declared the winning team. Congratulations to the winners, Francis Quinn, Jenna Smyth and Colman Monaghan.
The Best Speaker Award went to Kyle Egan from Trinity College Dublin and the Maynooth Team (Adam O'Carroll, Ethan Johnson and Brian McMahon) won Best Memorial.
Thank you to all participants and congratulations to all the winners.