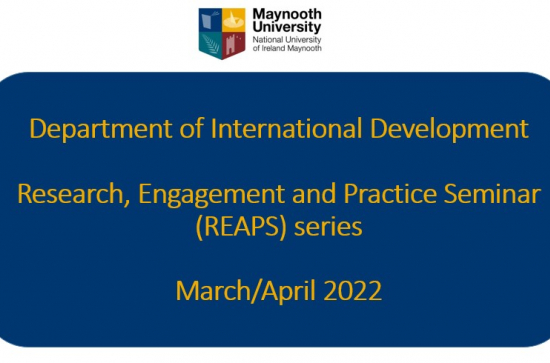 Friday, March 11, 2022 - 14:00
to
Saturday, April 30, 2022 - 16:00
Online events
REAPS - Research, Engagement and Practice Seminars
From March to April 2022, academic staff of the Dept. of International Development will collaborate with development practitioners and engaged researchers to co-host a series of 1-hour conversations reflecting on their work and the latest research from their discipline.
The series showcases staff research interests, stimulates increased external collaboration and draws attention to important emergent research themes in International Development.
Throughout the series, staff members of the Department of International Development will present their background in the field of international development, their personal research work and interests, and discuss new emergent themes in the discipline. They will be joined by an academic colleague or practitioner who will present their own experience, perspective, and critical observations. This will of course be followed by an invitation to seminar participants to join the conversation in response to the presentations.
See series schedule details and registration links below.
Full details available at:
REAPS series details and registration links April 2022