Wednesday, December 5, 2018 - 14:00
Teagasc team finalist in the "Farming by Satellite" Competition which will be held on December 5th, 2018 in Marseille, France
Azucena Jiménez-Castañeda is a second year PhD student at ICARUS, Maynooth University Department of Geography and part of Teagasc Walsh Fellowship Program. She is a member of Teagasc team composed of Richa Marwaha (Second year PhD) and Gabriela Mihaela Afrasinei (Postdoc), led by Dr Stuart Green, research officer at Teagasc, Rural Economy & Development Programme, Ashtown, Dublin. The Teagasc team won 1st Prize the "Farming by Satellite" competition, which was held in Marseille (France) on December 5th, 2018.
Farming by Satellite is an EU initiative by the European GNSS Agency with the cooperation with the European Environmental Agency. The aim of this prize is to promote smart agriculture using satellite information which will act as a decision support system for the farmers.
Directing ourselves towards smart agriculture is essential to adapt to the new challenges that arise with climate change. For this, it is fundamental to communicate the scientific knowledge to farmers in a clear and simple way, which helps them to make the best decisions on their farms. One of the best tools to do this is a mobile-phone app.
They submitted a mobile phone application proposal called "Feed On DemanD - wEdge & gRazing App" (FODDERApp). As an innovative precision agriculture tool, the main objective of the app is to help farmers manage feeding demand efficiently. The app will automatically acquire and process most recently available Copernicus Programme spatial data, from satellites like Sentinel-1, and Sentinel-2, along with other real-time meteorological information to estimate above-ground biomass on a per-field basis employing proven machine learning algorithms. It will incorporate the European Geostationary Navigation Overlay Service (EGNOS) to ensure the GPS positioning accuracy and integrity at field-scale. Its User Interface (UI) will deliver comprehensive, easily-readable information related to grass budget and grassland management for a growing season, outputting relevant maps, graphs, tables, and reports. It will visually illustrate the breakdown of pre-grazing yield distribution on the farm, identifying the paddocks that are either under or over- performing. The FODDERApp is designed to ensure coverage in both space and time, taking into account phenology of the grass. It will be customizable to different areas across Europe, according to EGNOS coverage.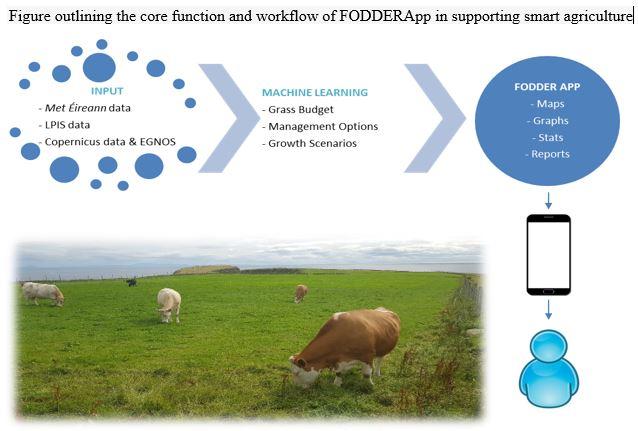 ​