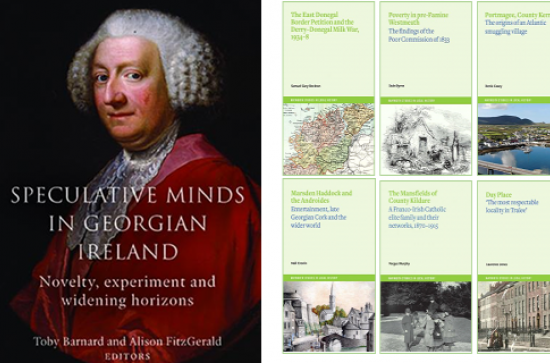 Tuesday, October 31, 2023 - 16:00
There was an enormous turnout for the launch of Speculative Minds in Georgian Ireland and six new volumes in the Maynooth Studies in Local History series in Pugin Hall at MU on 29 September 2023. The books were launched by President of Maynooth University, Professor Eeva Leinonen.
Speculative Minds in Georgian Ireland
EDITED BY Toby Barnard & Alison FitzGerald
Between 1750 and 1837 Ireland encountered new ideas, commodities and experiences. 'Novelty' – in individuals' lives and of goods – was at a premium. Those from Ireland gazed at the heavens, travelled to the Caribbean, devised manufactures to improve daily life, or speculated about how to release the untapped potential of the island. The results, whether inspired by curiosity, a zest for experimentation, fashion, profiteering, patriotism or civic conscience, permeated modest homes, small workshops and larger manufactories. The essays in this book reveal numerous unexpected worlds within and beyond Ireland.
Pictured left to right: Denis Casey, Professor Terence Dooley, Professor Eeva Leinonen, Dr Michael Potterton, Dr Alison FitzGerald
Maynooth Studies in Local History
SERIES EDITOR Michael Potterton
This year's offerings take us from Bronze Age burials in west Kerry to a three-year dairy war in 1930s east Donegal, via an entrepreneur extraordinaire from late Georgian Cork, a revelatory survey of dire poverty in pre-Famine Westmeath, a century of exclusive terrace-life in colourful Tralee and the complex social networks of a family of Francophile Catholic landed gentry from Kildare.

President Leinonen noted that 'Together, these six studies lead us on an astonishing journey on which we encounter smugglers, umbrella makers, lifelike automata, difficult marriage- and education choices, resolute defiance, agrarian violence, rapidly changing religious and political landscapes and a petition to have a region transferred from one nation to another … The six authors have taken their stories from relative obscurity to centre stage'.

Maynooth Studies in Local History was established in 1995 by Raymond Gillespie as a direct result of the enormous success of the Maynooth MA in Local History programme. 165 volumes have been produced, authored by 150 different scholars. This year, Denis Casey joins Terence Dooley as one of only two people to have authored three volumes in the series!

Series Editor Michael Potterton also spoke at the launch. If you have a proposal or an enquiry, please contact him by email at Michael.L.Potterton@MU.ie.

Maynooth Studies in Local History, 2023
Samuel Gary Beckton, The East Donegal border petition and the Derry–Donegal Milk War, 1934–8.
Seán Byrne, Poverty in pre-Famine Westmeath: the findings of the Poor Commission of 1833.
Denis Casey, Portmagee, Co. Kerry: the origins of an Atlantic smuggling village.
Neil Cronin, Marsden Haddock and the Androides: entertainment, late Georgian Cork and the wider world.
Laurence Jones, Day Place, Co. Kerry: 'the most respectable locality in Tralee'.
Fergus Murphy, The Mansfields of Co. Kildare: a Franco-Irish Catholic elite family and their networks, 1870–1915.