OPW- Maynooth University Archive & Research Centre at Castletown
The mission of the OPW- Maynooth University Archive & Research Centre at Castletown is to collect, preserve, promote and make available for research archival collections relating to Irish estates.
About Us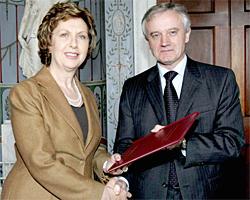 Launched by President Mary McAleese at a reception on Thursday, 13 November 2008, the
OPW- Maynooth University Archive and Research Centre at Castletown
was established to facilitate the care and study of archives and other sources dealing with the history of Irish estates, their houses and inhabitants. It also facilitates research in the decorative arts. This facility marks an exciting new collaboration between the
Office of Public Works
and Maynooth University.
The Archive and Research Centre is located on the second floor of Castletown House in Celbridge, Co. Kildare. Built between 1722 and 1729 for William Conolly, Speaker of the Irish House of Commons and the wealthiest commoner in Ireland, Castletown House is Ireland's largest and earliest Palladian style house. After decades in the care of Desmond Guinness and the Castletown Foundation, it passed in 1994 to the ownership of the Irish State. The Office of Public Works has since refurbished Castletown, and in 2007 reopened it as a major cultural and community resource.