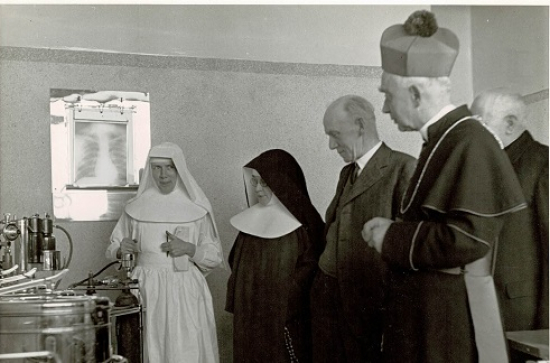 Thursday, February 25, 2021 - 18:00
Online via Zoom

https://zoom.us/j/98560643773?pwd=WXRGeVNnL014WlFEbmtsN3FrQm5QQT09

Meeting ID: 985 6064 3773
Passcode: 106313
Dr Brian Casey is the FMDM Fellow in the History of Catholicism and Assistant Director at the Centre for Catholic Studies, Durham University. A graduate of the MU History Department, his research interests have focused primarily upon class relations in the rural countryside, the land question, local, religious and rural history in Britain and Ireland in the nineteenth and twentieth centuries.
He is currently researching and writing the history of the Franciscan Missionaries of the Divine Motherhood, its nineteenth century antecedents through the various prisms including global Catholicism, social movements, philanthropy, medical and sacred spaces; particularly during periods of significant changes and challenges for the Roman Catholic Church.
'The Franciscan Missionaries of the Divine Motherhood, the Franciscan tradition and the provision of health care in rural Ireland, 1942-1960'.
The Missionary Sisters of Saint Francis arrived to Ballinasloe to establish a small maternity hospital in 1942 that became Portiuncula Hospital. It was also their first foundation outside of Britain. Subsequently renamed the Franciscan Missionaries of the Divine Motherhood in 1947, this congregation of religious sisters eventually established communities on five continents by the 1970s, building hospitals and schools to best international standards and ensuring that their hospitals were managed according to the most up-to-date Catholic medical ethics.
This paper explores the Congregation's efforts at establishing and managing Portiuncula Hospital and maintaining and expanding their presence in Ireland between 1942 and 1960. During this time, the Congregational leadership in Ballinasloe and Britain continued to negotiate with the hierarchy, civil service, the Irish Medical Association, government and the local community regarding the management and operation of the hospital and this resulted in significant conflict with the Irish Medical Association and Bishop William Philbin of Clonfert. This controversy was mostly away from public view and is contained in voluminous correspondence in the FMDM archive.
The paper highlights the challenges and importance in recovering the voice of religious sisters of the mid-twentieth century – rightfully restoring the agency they always had but was lost to their self-imposed silence. The FMDM archives not only give us an important understanding of how the congregation expanded its global network of health care for example, they also reflect how lived religion and its dynamic interplay with everyday life unfolded as they faced challenges in sustaining the spiritual side of their lives. It allows for the telling of the Congregation's story, but one that may not necessarily be congruent with the story that they may wish to have told or remember.